APRIL 13, 2011
Desert Foothills Theater presents "Seussical, Jr." April 16-23
Kids and Adults are invited to "Jojo's Jolly Tea Party" and "Horton's Hot Chocolate Happy Hour" before matinee and evening performances

CAVE CREEK – Desert Foothills Theater (DFT), a program of the Foothills Community Foundation, presents "Seussical, Jr.", a special DFT Gecko Teatro youth theater production with several matinee and evening shows Saturday, April 16 through April 23 at Cactus Shadows Fine Arts Center, 33606 N. 60th Street, in North Scottsdale.
Thirty eight youngsters, ranging in age from 8-18, make up the talented cast for this show. Actors come from throughout the North Valley including students from Paradise Valley, Scottsdale Unified and Cave Creek Unified School Districts.

"I just love performing and this show is so much fun because it allows me to really be creative and over the top," said Samantha Yoder, a sophomore at Pinnacle High School who plays The Cat.

"It has been so much fun working with Sara Bernstein, our director. It is a lot of singing and dancing and work. I have learned so much and now I can't wait until we open and an audience gets to see it," said Jacob Emnet, an eighth grader at Sonoran Trails Middle School.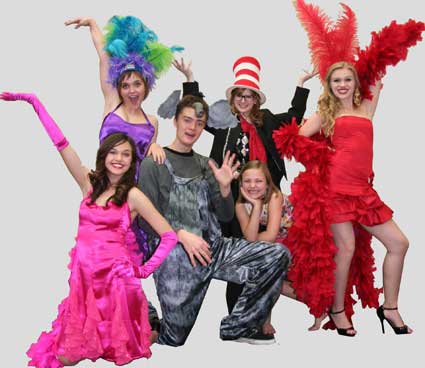 In this fantastical, magical, musical extravaganza, Tony winners Lynn Ahrens and Stephen Flaherty (Ragtime, Once On This Island) have lovingly brought to life all of our favorite Dr. Seuss characters, including Horton the Elephant, The Cat in the Hat, Gertrude McFuzz, lazy Mayzie and a little boy with a big imagination – Jojo. "Oh, the Thinks You Can Think" captures the show's spirit of imagination as the colorful characters transport us from the Jungle of Nool to the Circus McGurkus to the invisible world of the Whos.

The story centers around Horton the Elephant, who finds himself faced with a double challenge – not only must he protect his tiny friend Jojo (and all the invisible Whos) from a world of naysayers and dangers, but he must guard an abandoned egg, left to his care by the irresponsible Mayzie La Bird. Although Horton faces ridicule, danger, kidnapping and a trial, the intrepid Gertrude McFuzz never loses faith in him, the only one who recognizes "his kind and his powerful heart." Ultimately, the powers of friendship, loyalty, family and community are challenged and emerge triumphant in a story that makes you laugh and cry.

Tickets are $16 per adult and $10 per student.

For an extra $10 per person, guests can also indulge in delicious finger sandwiches, treats, tea and hot chocolate during "Jojo's Jolly Tea Party" prior to matinee performances and "Horton's Hot Chocolate Happy Hour" prior to evening performances. An appearance by characters from the show and the reading of a Dr. Seuss classic, make the tea parties a truly unique event. The English Rose Tea Room has generously sponsored the tea parties and all proceeds benefit Desert Foothills Theater's youth theater program.

Performances are Saturday, April 16 and Friday, April 22 at 7:30 p.m. and Sunday, April 17 and Saturday, April 23 at 2 p.m. To purchase tickets or for further information, visit www.desertfoothillstheater.com or call 480-488-1981.

Top Photo: Keri Orcutt (Bird Girl), Megan Mahoney (Mayzie La Bird) and Alena Sanderson (Bird Girl) in Desert Foothills Theater Gecko Teatro's production of Seussical, Jr. running April 16-23 at Cactus Shadows Fine Arts Center.

Lower photo: (clockwise from bottom left) Keri Orcutt (Bird Girl), Alena Sanderson (Bird Girl), Bjorn Eriksson (Horton), Samantha Yedor (The Cat), Megan Mahoney (Mayzie La Bird) and Lily Castle (Jojo) in Desert Foothills Theater Gecko Teatro's production of Seussical, Jr. running April 16-23 at Cactus Shadows Fine Arts Center.
Courtesy photos: Barbie Orcutt