BY LINDA BENTLEY | APRIL 6, 2011
Former Career Success student arrested for Walgreens robbery
MCSO converged on Career Success in March 2010 on an anonymous tip that students were in possession of heroin and Percocet
SCOTTSDALE – Charles Remington Dawe, 24, was arrested at 2 p.m. on Sunday, April 3 by Scottsdale police (SPD) and booked into Maricopa County Jail on felony counts of robbery, possession/use of a weapon in a drug offense and possession/use of a narcotic drug.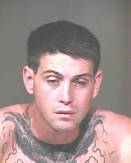 At 1:15 p.m. on Sunday, SPD responded to a robbery call at the Walgreens store located at 10929 E. Dynamite Blvd, where the pharmacist informed officers a white male wearing a black jacket, hat and sunglasses handed the employee a note demanding Oxycontin.
The employee complied and the suspect, who did not appear to be armed, left the store.
At the same time, Maricopa County Sheriff's Office notified SPD that Dawe, a white male matching the suspect's description, just took a family member's SUV without permission from a Rio Verde residence where Dawe appears to live with his parents.
Dawe was also accused of taking a shotgun and made comments which SPD said would later implicate him in the robbery.
When SPD arrived at the Dawe family's home on North 160th Street, MCSO deputies had already taken Dawe into custody as he returned with the vehicle.
And, according to SPD, a search of the residence revealed evidence from the crime.
When he was still in high school, Dawe, who lived within the Cave Creek Unified School District, attended Career Success Charter School, an alternative school in Cave Creek, before moving to its new location on Bell Road.
While still located in Cave Creek, Career Success experienced countless visits by MCSO, responding to calls of illegal drugs, alcohol use and possession of tobacco on campus.
In March 2010, MCSO deputies, including SWAT and K-9 units, converged on Career Success in response to an anonymous tip that students were in possession of heroin and Percocet, a narcotic analgesic combination of acetaminophen and Oxycodone.

Four students, three of which were juveniles, were arrested that day.

In 2007, Dawe was under an interstate probation supervision compact.

In 2008, he was cited for driving without a valid license and knowingly displaying a fictitious plate. He pled guilty to driving without a valid license with the fictitious plate charge dismissed as part of a plea agreement.

In March 2008, Dawe was arrested for felony possession of a narcotic drug and possession of drug paraphernalia.

On March 26, 2009, Dawe entered a plea agreement to a reduced count of possession of drug paraphernalia, as a class 6 undesignated offense, and was sentenced to 18 months of unsupervised probation, 24 hours of community service and a $2,208 fine.

Under condition 26, Dawe was also ordered to be screened for substance abuse treatment, follow any recommendations and provide verification to the adult probation department that he completed a minimum of eight hours of drug education/substance abuse treatment.
According to court records, Dawe would have completed his probation sometime around September 2010.

In January 2011, Dawe was cited for driving under the influence of alcohol, drugs or vapor-releasing substance and for driving under the influence of drugs or its metabolite.

On March 3, both charges were dismissed by the University Lakes Justice Court.

Dawe was cited again in February 2011, this time for a civil traffic offense of driving in the HOV lane without two or more passengers. No disposition has been posted yet for that violation.

Dawe is currently being held at Maricopa County Jail, booked under the name Remington Charles Dawe, with bond set at $7,500.

Because Dawe has used both Charles and Remington interchangeably as his first and middle names, it isn't clear as to which is his true legal name.