BY LINDA BENTLEY | APRIL 6, 2011
Justice finally served in Top Rank boxing promoter fraud case
McKinn ordered to self-surrender on April 23, when he will have to trade in his skivvies for Sheriff Joe Arpaio's famous pink underwear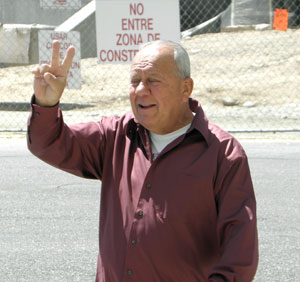 Photo by Linda Bentley
PHOENIX – Maricopa County Superior Court Judge Arthur Anderson suffered no fools on April 1 and moved forward with the mitigation hearing and sentenced former Top Rank boxing promoter Peter McKinn, 41, to five months in jail, six years of supervised probation and 150 hours of community service, despite McKinn filing a new motion to continue.
Since entering a plea agreement in November 2010 to amended counts of theft, forgery and perjury, for a fraudulent scheme that began with a bad check for $5,000 in May 2004 to fighter Ramon "Yory Boy" Campas and his trainer Joe Diaz, McKinn's sentencing has been delayed several times.

On March 11, when McKinn was set to be sentenced, he was granted a two-week continuance to hold a mitigation hearing after learning Anderson was considering jail time as part of his sentence.

When prosecuting Attorney Pascal Brown realized he had a conflict with a continuing education seminar, the case was continued another week.

On March 28, defense Attorney Brian Russo filed a motion for yet another continuance stating McKinn's father had just suffered a heart attack.

Anderson ruled the mitigation hearing would proceed as scheduled on April 1 and he would consider, at that time, whether or not he would proceed with sentencing.

The victims' Attorney Ed Moriarity, upon receipt of the motion to continue based on McKinn's father having just suffered a heart attack, requested proof.

It wasn't until the morning of April 1 Moriarity learned it was not McKinn's father but his step father who suffered a heart attack.

Anderson said he would "typically not require verification from any lawyer" due to a lawyer's duty to the court.

Anderson stated he understood the frustration felt by the parties and noted continuances "just adds fuel to the fire."

Russo told the court McKinn's stepfather was at home now with his mother and said, "I'm not in the habit of fabricating evidence."

He said McKinn's wife and father-in-law were present and they were ready to proceed with the mitigation and sentencing.

Anderson said if there was going to be jail, he would postpone it for a couple of weeks for a "significant family event."

Due to the uncertainty as to whether or not the hearing was going to proceed as scheduled, Pedro Fernandez of Ring Talk, who has followed this case for seven years, was threatened by McKinn and was planning to testify, cancelled his flight to cut his losses.

When Fernandez learned the hearing was going to proceed, he attempted to fly standby on a "Buddy Pass" that morning except the flight was full.

Anderson said Fernandez could appear telephonically if necessary.

However, Russo asked, "What does Fernandez's testimony have to do with this case?"

Anderson looked to Moriarity for an answer.

Moriarity stated, "This is supposed to be a mitigation hearing where people are going to say what a good guy he is. This is in rebuttal."

Anderson stated while the victims have certain rights, he wasn't sure the law allows for witnesses to be called that have no nexus to the case at hand and said he wasn't clear on admissibility and it was a procedural issue they needed to address.

Brown said the state agreed with the presentence report's recommendation of probation with a recommendation of 60 days in jail for each of the three counts.

However, he said the report "didn't say whether it was consecutive or concurrent."

McKinn's father-in-law, who said he was a retired deputy sheriff, testified on McKinn's behalf and requested the court follow the guidelines of probation (without jail).

Russo said the suggested sentence was "inappropriate" in this case due to the amount of time that had lapsed, because McKinn has shown remorse, taken responsibility, agreed to pay restitution and has no previous criminal record.

"To ignore all that serves no legitimate purpose," said Russo, who stated it would place an undue hardship on McKinn and his family.

Anderson said he understood the circumstances and typically for a bad check he would agree but said McKinn then "ratcheted it up and involved other people," pointing out the events occurred over a period of time and involved other people.

Russo argued McKinn "could have done other things, but he didn't. There were several opportunities where he could have done something but he didn't. He wants to put this behind him. He's learned his lesson and it costs him money every time he comes to court."

When McKinn was given an opportunity to speak, he told Anderson, "The incident in May, saying I had no money, is not true. In April 2004, I had $22,000 in the account … another time I had $65,000. They had every opportunity in June or July to cash that check.

McKinn told the court he's been trying to pay the money but his attorney told him not to and said, "If the boxing commission told me to pay, I would have paid it. If attorneys told me to pay, I would have paid it. If the justice department told me to pay, I would have paid it.
"I made every attempt to pay it. I had lawyers and just did what they told me to do. To say I was prolonging this situation? I was trying to pay it."

McKinn said he didn't just have a boxing license but a gaming license, which requires an FBI background check to make sure he wasn't affiliated with the Mafia.

He said, "For six years, I've maintained silence. I didn't talk to nobody. I apologize for my actions. I didn't postpone it. Now that we're here, I want to put closure to this. I'm doing everything in my power to resolve this issue.

"I put the mercy to you. I just want closure. I apologize to Joe Diaz."
Anderson responded by saying, "I'm at a disadvantage here because I don't know about all these other issues. You say you had this money for some time and tried to get the victims to take the money.

"Solicitation to commit perjury and solicitation to commit forgery doesn't match up with someone who is trying to pay someone."

Anderson then addressed whether Fernandez could testify and said, "Every victim presents evidence, but whether or not they have standing to call witnesses at a sentencing hearing or give testimony about some other bad acts that do not have anything to do with this case …"

Anderson called for a short recess so Brown could call Fernandez and "find out what he wants to say."

During the recess, while Diaz was speaking to the victim's advocate, he said he didn't know which father-in-law was present since McKinn has had five wives and he didn't know this one.

McKinn's father-in-law overheard the conversation and started across the court as he threatened to assault Diaz.

Meanwhile, the court clerk hit the panic alarm and six Maricopa County Sheriff's Office immediately responded.

They removed McKinn's father-in-law from the courthouse and said Diaz would have to leave as well.

Moriarity told one of the deputies Diaz was a victim and had a constitutional right to be there.

The deputy, after speaking to Anderson, told Moriarity Diaz could testify and would then be required to leave the court.

Diaz had no problem with that.
When court resumed Brown indicated to Anderson Fernandez did not have testimony connected to this case and would not be called.

Diaz told Anderson, "That was a script Mr. McKinn read to you. It was a lie. There was no money. If there was money after … I don't know. A year after – I never got the money.
"Consider what was done was deliberate, not by chance," said Diaz.

When Moriarity was given an opportunity to speak, Anderson interrupted and said, "I don't want to go back to day one over and over again. I get it."
Anderson proceeded to sentencing.

On count 1, theft, Anderson sentenced McKinn to three years of supervised probation, 50 hours of community service, 30 days in jail and no contact with the victims unless approved in writing by the court.

On count 3, forgery, and "taking these further steps to cover up," Anderson sentenced McKinn to three years of supervised probation to run concurrent with count 1, 50 hours of community service and 60 days in jail to run consecutive to count 1.

With aggravated circumstances associated with count 4, Anderson sentenced McKinn to three years of supervised probation to run consecutive to the concurrent three years for counts 1 and 3, 50 hours of community service and 60 days in jail to run consecutively.
Anderson dismissed counts 2 and 4 as per the plea agreement.
He then asked, "What do we know about restitution?"

Since restitution had not been addressed, Anderson agreed to keep it open for six months and said, "If you can't stipulate an amount, we'll have a hearing."

Anderson ordered McKinn to be considered work-release eligible after serving 90 days, denied Russo's request to credit McKinn with the 10 days he had already spent in jail connected to this case and gave McKinn until 9 a.m. on April 23 to self surrender to Maricopa County Jail where he'll have to trade in his skivvies for Sheriff Joe Arpaio's famous pink underwear for the next five months.