APRIL 1, 2011
Former Congressman John Shadegg Joins Steptoe & Johnson LLP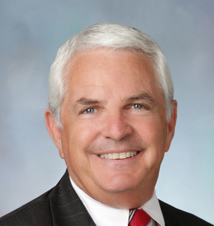 WASHINGTON, DC—Steptoe & Johnson LLP is pleased to announce that former U.S. Congressman John Shadegg of Arizona's Third District has joined the firm as a partner. Mr. Shadegg, who is a second generation native Arizonan, and who was elected to the U.S. House of Representatives during the 1994 Republican Revolution and represented northern Phoenix for eight terms before retiring from office in 2010, will practice in Steptoe's Government Affairs and Public Policy group. He will reside in both the firm's Phoenix and Washington, D.C. offices.

"After choosing not to seek re-election, I wanted to explore my options before embarking on the next phase of my career," said Mr. Shadegg. "In selecting private practice, Steptoe quickly rose to the top of the list because it is the only prominent international firm with a significant presence in both D.C. and Phoenix. That, coupled with the firm's reputation for sophisticated, deep regulatory expertise, and a legislative team that truly listens to its clients and advocates in their best interest, made the choice very easy."

Steptoe's Phoenix office is the firm's largest outside its Washington headquarters. Opened in 1987, the office offers legal services that are both unique in the Southwest market and supported by related practices in the firm's national and international offices. The office's lawyers represent clients in industries such as manufacturing, construction, retail, high technology, financial services and healthcare.

"We are delighted to welcome Congressman Shadegg to our firm and to our Phoenix office," said David Bodney, managing partner of Steptoe's Phoenix office. "John represented Arizona's Third District with distinction and is greatly admired by his former constituents and residents throughout the state. He was an effective advocate for the people of Arizona, and he will now be an outstanding advocate for our many clients in the Phoenix business community as well as those wishing to do business in the Valley of the Sun."

During his 16 years in Congress, Mr. Shadegg served on the Energy and Commerce Committee and a variety of its subcommittees, including Energy, Telecom, and Health, and he was named to the House Select Committee on Energy Independence and Global Warming. While on the Hill, Mr. Shadegg also served on the Budget, Financial Services, Natural Resources, and Government Reform Committees. He was an advocate for American-made energy, and his efforts to promote hydroelectricity spilled over into his fight to save and preserve Lake Powell. Along with his focus on energy and environmental policies, he was passionate about healthcare, and he introduced legislation signed into law that encourages states to cover those with pre-existing conditions. From 2005-2006, Mr. Shadegg served as Chairman of the House Republican Policy Committee, the fifth-ranking position in the House Leadership. Previously, he chaired the Republican Study Committee, the largest conservative organization in the House. Under Congressman Shadegg's leadership, the organization grew from 40 to more than 70 members and became the most influential and respected force in the U.S. House shaping conservative policy for the country.

"John Shadegg's leadership skills, combined with his outstanding public policy expertise, make him a valuable addition to our growing Government Affairs and Public Policy practice," said Roger E. Warin, chair of Steptoe. "In particular, his experience on the Energy and Commerce Committee, where he handled a wide array of policy matters including banking, natural resources and homeland security, will provide a number of our practices and their clients with first-hand knowledge of the legislative process."

In addition to his new position at Steptoe, Mr. Shadegg is a visiting distinguished fellow at the Heritage Foundation focusing on healthcare reform initiatives, and a distinguished fellow at Hillsdale College.

Mr. Shadegg earned both his undergraduate and law degrees from the University of Arizona. Prior to being elected to Congress, he served as a special assistant attorney general in Arizona and as a special counsel to the Arizona state House Republican caucus. He is a founding director of the Goldwater Institute for Public Policy.