BY PETE MOHR | MARCH 30, 2011
Falcs "kick Butte" 12-1 at home March 24
"Laughers" will end at Queen Creek March 29, hosting Saguaro, 2010 State Champs, March 31
CSHS – The Baseball Falcons' three most recent regular season games: CSHS, 12 - Poston Butte, 1 (March 24, H); CSHS, 24 - Campo Verde, 2 (March 22, A); and CSHS, 20 - J.L. Combs, 3 (March 17, A). Hopefully, the A.I.A.'s scheduling realignment, to be completed by the start of school year 2011-2012, will significantly reduce both geographic insanity (the round trip to Combs is at least 170 miles) and the brutal mismatches (in certain varsity sports) for "newer" schools.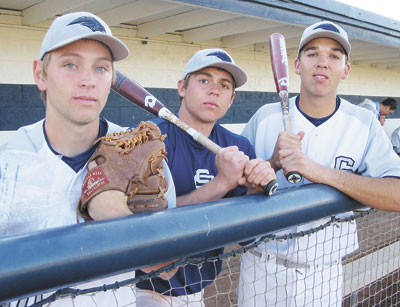 (l-r ) Sean O'Grady, with Connor Sabanosh and Brent Nurre, the latter two each with a pair of hits. O'Grady will get the start at Queen Creek.
Photo By Pete Mohr
Combined scores against Combs, Campo Verde and Poston Butte: Falcons, 56 - "Newcomers," 6. There has to be a fairer way to match new programs against more experienced competition. Perhaps on a year-to-year, sport-to-sport basis, a "new" school could elect to initially schedule (for "x" seasons) only other schools of a like experience level.
Without picking on Campo Verde, I invite their athletic director to "educate" me as to what the Coyotes gained by making the $3.50 per gallon haul from the far southeast Valley to the Desert Foothills, only to get whacked, 24-2. (Campo was competitive in basketball.)
A "laugher" didn't do a whole lot to help the Falcons sharpen up for tough games this week against Region opponents Queen Creek and Saguaro. For the record, against "The Butte," starter and winner Sean O'Grady pitched four shutout innings, yielding only one hit. Reliever Scott Walter finished.
On Monday, March 14, in the "Spring Classic" (at Sunnyslope), junior Jared McIntyre went a solid 5 2/3 innings to pace a 5-1 win over The Creek. Count on the Bulldogs to have more bite at their home kennel. Thursday, March 31, is perhaps the biggest home game of the season. In come the defending 4A-I State Champion Saguaro Sabercats. On April 13, 2010, the 'Cats hung a 13-2 "mercy" embarrassment on CSHS at Falcon Field. Two afternoons later, the 'Birds rode the five-hit pitching of senior Co-Captain Jaron Long and defensive gems by juniors Ryan Nemger and Charlie Dominick to hand Saguaro their only home loss in 2010. It was a "beautiful thing!" To protect The Rooste, Head Coach Spencer Grace will give the ball to senior Joey Ford. Should be a good one.