MARCH 23, 2011
Geologist to share maps of ancient Arizona landscapes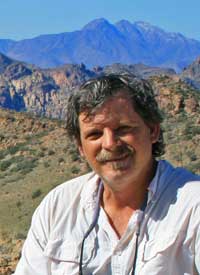 CAVE CREEK – The Desert Foothills Chapter (DFC) of the Arizona Archaeological Society (AAS) is pleased to announce that geologist and author Wayne Ranney will be the guest speaker at their regular meeting on Wednesday, April 13, to be held in the Community Building of the Good Shepherd of the Hills Church, 6502 E. Cave Creek Road in Cave Creek.

Wayne's lecture, entitled, Ancient Landscapes of the American Southwest promises to be a visually stunning and exciting presentation of how some of Arizona's most spectacular landforms such as the Grand Canyon, Monument Valley, Petrified Forest and the Superstition Mountains came to exist. The Road Scholar Program, part of the Arizona Humanities Council, is funding his lecture. The chapter meetings are free and the public is encouraged to attend.

Wayne Ranney has both bachelors and masters degrees in geology from Northern Arizona University. He has worked and lived at the bottom of the Grand Canyon, been to both the North and South Pole and has traveled to over 80 countries. He is an award winning author of four books, Ancient Landscapes of the Colorado Plateau, Carving Grand Canyon, Sedona Through Time, and Arizona Landforms. All of his books will be available at the meeting for purchase and autographs.

As a speaker for the Road Speaker program, Wayne enjoys lecturing about the amazing climate and landscape changes that have taken place in the Southwest through time. He promises to engage the audience with scientifically accurate yet accessible prose for how Arizona looked at various stages in the past – giant dinosaurs roaming on coastal beaches, Sahara-like deserts, and rivers that once flowed towards the area of the Rocky Mountains. He will use exquisitely rendered maps that reveal where the various seas, mountains, and deserts used to exist. Wayne encourages anyone interested in attending to "bring a sense of discovery and curiosity" and promises to make this journey through time an exciting one.

The AAS is in independent, non-profit and state-wide organization that serves as a link between the professional archaeologist and the avocational archaeologist. The goals of the AAS are to foster public awareness, interest, research and conservation of Arizona's rich archaeological heritage, with special emphasis on protecting these scarce resources.

The DFC has been active in the Cave Creek area for over 30 years. Please check the AAS website, www.azarchsoc.org for membership information and to find out about the many other chapters statewide. For direct information about other DFC activities, contact President Paddi Mozilo at 480-595-9255.