BY PETE MOHR | MARCH 23, 2011
For Baseball Falcons: First home win between two road 'laughers'
Q-Creek (A, 3/29), Saguaro (H, 3/31), McClintock (A, 4/5) will test Birds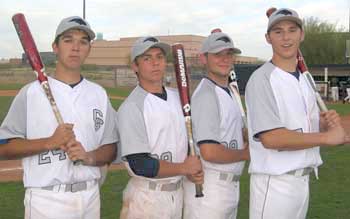 "The Big Boppers!" (l-r) Connor Sabanosh, Brent Nurre and Grant Lasley all went "yard" in the 20-3 "laugher" at J.L. Combs, March 17. 'Birds downed Flagstaff, 12-5, the next afternoon to post their first home decision of the season. Rightfielder Johnny Leonard homered.
Photos by Pete Mohr
CSHS – On Wednesday night, March 16, in the finals of the "Spring Classic", Head Coach Spencer Grace's Falcons got skunked, 6-0, by the "Sandites" from Sand Springs, Okla. The next afternoon, the 'Birds went from scoring famine to batting feast, traveling halfway to New Mexico (or so it seemed) to bury "new school" J.L. Combs, 20-3. Most fans know such a lopsided score is called a "laugher" in baseball jargon. Who missed the "extra point"? Not so funny; but how else would you describe
twenty
runs?!
Sean O'Grady was the starter and winner. "Mr. O'G." also helped his cause with two triples. Connor Sabanosh, Brent Nurre and Grant Lasley homered in the rout (see accompanying photo).
The following afternoon, at Falcon Field, against the Flagstaff Eagles in a postponement from March 1, scoring sanity returned, as the Falcs plated four runs in the bottom of the first en route to a 12-5 verdict, their first home win of the season. Starter Joey Colombo pitched four solid innings to record his second "W"; Johnny Leonard homered to right; and Lasley finished up with three strong frames in relief.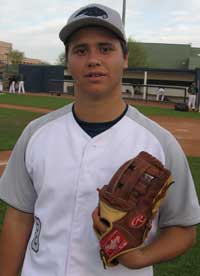 In the March 18 win over the visiting Flagstaff Eagles, sophomore Joey Colombo started and pitched four solid innings to record his second 2011 victory. Junior Grant Lasley yielded only one run in his three-inning relief stint.
Postgame, Coach Grace acknowledged to Sonoran News that "laughers" make it difficult for his team to maintain "a competitive edge." He hadn't seen nothin' yet! While the rest of CSHS was coolin' it on Spring Break, the Falcons had to hit the road to "new school" Campo Verde. The final? Falcons, 24 - Broncos, 2 in a "mercy rule" five innings. C'mon! Twenty-four runs? If ah'm lyin', ah'm dyin'! Starter/winner O'Grady and reliever Lasley were the pitching tandem. Max Patterson blasted the only Falcon homer.

If you want to watch live action batting practice, be at Falcon Field, Thursday, March 24, when "new school" Poston Butte comes calling. Gar-on-teed to be another "laugher," which won't help the Birds get ready for their tough three games coming up (in order) vs. Queen Creek (whom the Falcons downed in the "Spring Classic"), Saguaro (defending 4A-I State Champs) and McClintock. 'Creek and "Mac" are away.

"Back the 'Birds!" at home vs. the "Sag" Sabercats, Thursday, March 31. No "laugher," this one.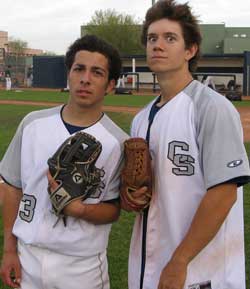 Don't let senior Joey Ford's wild-and-crazy hair fool you! He patrols a tough center field, throwing out a Flagstaff runner at the plate. "Straight Man" junior Nate Lisena turned in a defensive gem, ranging far from his second base position to snare a foul pop up. Junior leftfielder Sean O'Grady (not pictured) gloved two "Flag" line drives into "big play" outs.