BY LINDA BENTLEY | MARCH 16, 2011
Barto goes AWOL after voting with the Dems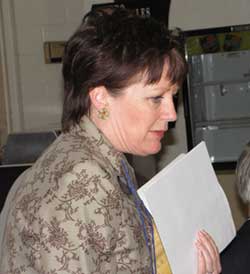 PHOENIX – Sen. Nancy Barto, R-Dist. 7, missed her second Legislative District 7 meeting on March 15 but, according to attendees, she made sure Rep. Heather Carter would be available to read a letter on her behalf touting all of her accomplishments.

However, those accomplishments didn't include the fact that she voted with the Democrats against SB 1433: federal legislation; state nullification, which sent it to defeat on the third read.

Primary sponsors of SB 1433 included senators Lori Klein, R-Dist. 6; Sylvia Allen, R-Dist. 4; and Jack Harper, R-Dist. 4, with Senate President Russell Pearce, R-Dist. 18, and Rep. Steve Montenegro, R-Dist. 12 co-sponsoring the legislation.

The 10th Amendment to the U.S. Constitution states that the powers not delegated to the United States by the Constitution, nor prohibited by it to the states, are reserved to the states respectively, or to the people.

And, the purpose of SB 1433 was to establish a Joint Legislative Committee on Nullification of Federal Law.

According to the fact sheet prepared by Senate Research, SB 1433 "asserts that this state and its citizens are not required to recognize or live under any federal legislation that has been nullified by simple majority vote of the legislature on the grounds of constitutionality."

It would require that the committee ensure that the legislature adopts and enacts all measures necessary to prevent the enforcement of any nullified federal legislation, and require the legislature to vote on the nullification action recommended by the committee within 60 days after the recommendation.

Other provisions include ensuring that the U.S. Supreme Court has jurisdiction over any cause of action regarding nullification between Arizona and the federal government; a requirement to make a recommendation within 30 days after receiving the federal legislation for consideration and process; and allows the committee to recommend for nullification existing federal legislation enacted before the effective date of SB 1433.
The bill also allows the committee to review existing federal legislation to determine constitutionality.

The vote for the third reading was 12 Ayes and 18 Nays.

The other six Republican senators who voted along with Barto and the Democrats to defeat the bill included: Rich Crandall, Dist. 19; Adam Driggs, Dist. 11; Linda Gray, Dist. 10; John McComish, Dist. 20; Michele Reagan, Dist. 8; and Majority Whip Steve Pierce, Dist. 1.

Barto has now embellished her record of voting "present" as a member of the House of Representative to voting with the Democrats in the Senate and then refusing to face her constituents.