BY LINDA BENTLEY | MARCH 16, 2011
Local Bernese Mountain Dog wins recognition at Westminster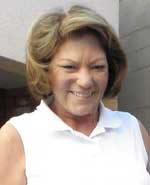 CAVE CREEK – Briscoe, a 4-year-old, 125-pound Bernese Mountain Dog, may just be a pet to locals Rebecca (right) and Michael Adams, but to his breeder and trainers, Carol and Roger Arbuthnot of Sapphires Bernese Mountain Dogs, he's become a great show dog, winning Best in Show at the Bernese Mountain Dog Club of Canada National Specialty and winning championships in Finland and Sweden.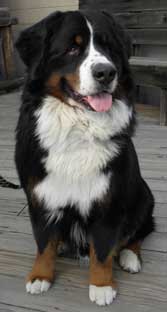 Briscoe recently added an Award of Merit from the 2011 Westminster Kennel Club show to his winnings.

Also known as the Berner Sennenhund, the Bernese Mountain Dog is a farm dog of ancestral origin, which was used as a guard dog, draft dog and for driving cattle in the pre-alpine regions and in the midland areas around Bern, Switzerland.

The breed was officially established in 1907 and became recognized by the American Kennel Club as a member of the Working Group in 1937.

One day, shortly after losing their Golden Retriever, the Adamses became intrigued by a dog accompanying its owner while shopping at a local home improvement store. It turned out to be a Bernese Mountain Dog.

Since they were thinking of getting another dog, they began researching the breed and started looking for a reputable breeder.

After much research, they decided on Sapphires.

The breed standard for temperament of the Bernese Mountain Dog is a dog that is good natured, self assured, placid towards strangers and docile.

However, the Bernese Mountain Dog is also said to mature slowly and exhibit puppy-like behavior until about 1 1/2 years old.

Compared to most other similar sized breeds, which have median longevities of 10 to 11 years, the Bernese Mountain Dog has a very short life span with a median longevity of 7.1 years in the United States and Canada.

According to the Bernese Mountain Dog Club of America (BMDCA), the breed has a much higher incident of fatal cancer than other breeds, whereas approximately 50 percent of Bernese Mountain Dogs die of cancer, compared to about 27 percent for all other dogs.

The BMDCA Health Committee determined several areas of concern with the breed that "warrant an effort to study," including:
• age at death is too low
• there is an excess of cancers in this breed
• hip and elbow disease continues to plague the breed
• hypothyroidism
• reactions to anesthesia are significant
• the mortality rate from bloat is excessive

While the Bernese Mountain Dog is known for having a great temperament, being affectionate, loyal, faithful and intelligent, anyone considering the breed should be prepared to deal with a large dog that could develop mobility problems at a young age.