BY PETE MOHR | MARCH 16, 2011
10-9 thriller over Thunderbird sends Falcons into March 16 "Spring Classic"
Finals vs. Sand Springs, Okla. at Grand Canyon University, 7 p.m. first pitch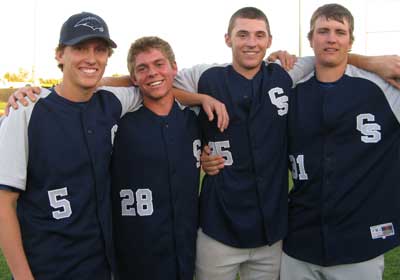 The come-from-behind Falcons! (L-r) pinch runner Riley Wicker scores tying run when Chiefs' catcher throws Brent Nurre's perfect bunt into the right field corner. An intentional walk loads the bases. John Leonard comes home from 3rd with the winning run on a four-pitch walk to Max Patterson. Photo by Pete Mohr

PHOENIX – On Tuesday, March 15, trailing 8-9 and down to their last three at-bats, the "wouldn't quit" Falcons rallied for two runs to break the hearts of the Thunderbird Chiefs, 10-9. The dramatic win sends the 'Birds into the "Spring Classic" championship game against Sand Springs, Okla. at Grand Canyon University, Wednesday evening, 7 p.m. first pitch. Last Saturday morning, at Sunnyslope, the Falcons rode the complete game arm of junior Sean O'Grady to beat the Vikings, 7-2.

It took a sensational defensive play triggered by senior catcher Connor Sabanosh in the T-Bird 7th to keep the Falcs within a run. The Chiefs had gone ahead, 9-8, with runners on 1st and 3rd, one out, they attempted a double steal. Sabanosh nailed the runner at 2nd then took second baseman Nate Lisena's on-target throw to cut down the lead runner at the plate. You'll rarely see that defensive gem perfectly executed.

Outfielder Sean O'Grady led off the Falcon 7th with a solid single to left, his third hit of the game. Riley Wicker, in to pinch run for O'Grady. John Leonard followed with his second hit. Pinch hitter Brent Nurre to the plate. On a 1-1 count Nurre dropped a perfect bunt toward the 3rd base line which the Chiefs' catcher air mailed into the right field corner! Wicker and Leonard scored! Game over!

Not so fast, Falcon fans! The bases umpire ruled that the wild throw had bounced out of play, waving Leonard back to 3rd. Nurre on 2nd. The Chiefs elected to walk Nate Lisena intentionally to set up a force play at home. Up stepped power-hitting 1st baseman Max Patterson. Thunderbird standout (4-for-4) junior Marcus Wheeler, forced to make an emergency relief appearance (his first, he told Sonoran News postgame), walked "Maxie" on four straight pitches to force in "Big John" with the winning run.

In Wednesday evening's title game, the Falcons will be going for their seventh consecutive victory. If you can't make it to GCU (or McClintock the next afternoon), you can catch the "Rally 'Birds" at home, Friday, March 18, when they'll play a make-up game against the Flagstaff Eagles, 4 p.m. first pitch.