BY MARIELLE D. MARNE | MARCH 16, 2011
Open to the public, Rancho Mañana updates bunkers and joins Facebook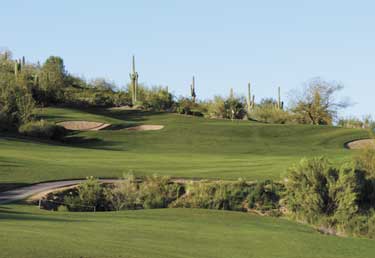 CAVE CREEK – The Rancho Mañana golf course surely embodies all that is lovely about Arizona. There's the surrounding beauty, the friendly and helpful staff, the serenity of being off the beaten path from Scottsdale and Phoenix. But it's about to get even better.
Dale Samar, general manager, said they are improving the golf course. Fear not, it's nothing major that will disrupt play. "We are renovating some of the sand bunkers," he explained. Golfers will know that means they will be easier to play out of, likely improving one's score.

If better sand traps aren't enough enticement to play Rancho Mañana today, note that the rates remain lower than those of three years ago. For an outstanding deal, play after 4 p.m. and pay a mere $39 per person, including the golf cart! Go to RanchoMañana.com for other specials.

Last year, Rancho Mañana went on Facebook. Become a friend (and join more than 200 other fans) and win some great prizes. "Each month, we have a random drawing for free golf. We also do a drawing for a complimentary round of beverages," Samar added.
Rancho Mañana has been bestowed countless awards for its excellence; one of the most recent from Golf Digest as one of the "Top 50 Women-Friendly Courses."

Golfers as well as non-golfers can enjoy the club at "the Ranch." There's a fun golf shop that carries adorable outdoor metal statues along with traditional golfer garb and accessories. After picking up a Rancho Mañana logo tee or sweatshirt, depending on the weather, head over to anyone of several great restaurants in the area.

Rancho Mañana Golf Club is located at 5734 E. Rancho Mañana Blvd. For information or to schedule a tee time, phone 480-488-0398.