BY PETE MOHR | MARCH 15, 2011
'Surprise' pitching, solid 'D', timely hitting rejuvenates Falcs to five straight wins
Birds swept Tourney bracket into March 15 Semis; open Region play at 'Mac', March 17; Flagstaff here for make-up game, March 18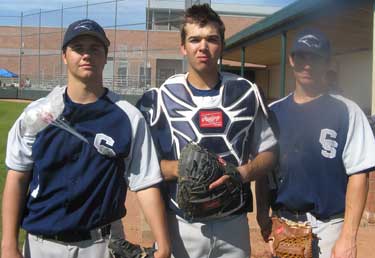 The winning battery: charged and recharged! In the second game of last Saturday's "Spring Classic" doubleheader at Sunnyslope, sophomore Jake Colombo (l) was the starter and winner against (Cottonwood) Mingus, going 5 2/3 strong innings before Joey Ford (r) came on to get the last four outs in the Falcons' 4-2 victory. For Head Coach Spencer Grace, catcher Connor Sabanosh (c) is the solid anchor behind the plate, catching every inning in the Falcs' five-game winning streak. Photos by Pete Mohr

CSHS – March 15 – After a fielding disaster in their regular season opening loss (6-14) at Raymond Kellis (March 3) and a relief pitching meltdown (5-13) at home (March 8) against Sunrise Mountain, this writer thought Head Coach Spencer Grace was singing in the shower when he looked for "momentum" from his Falcons' appearance in the March 11-March 16 "Spring Classic" at Sunnyslope (first four games) and Greenway (March 15). (If the Falcons beat Thunderbird at Greenway, they move on to Wednesday evening's championship game at Grand Canyon University, 7 p.m. first pitch).

The Falcons got the "mo" Coach Grace was hoping for from perhaps the least expected source: pitching. Thursday, March 10, at Shadow Ridge: Falcons, 5 - 'Ridge, 1. Senior Scott Walter on the mound. Friday afternoon, March 11: Sophomore Joey Wise hurls, as the 'Birds "mercyed" Cortez, 13-0. The next morning, junior Sean O'Grady went the distance, Scott Freeman and Max Patterson homered: the Falcs' downed 'Slope in their ballyard, 7-2. That afternoon, sophomore Jake Colombo, a strapping righthander, and senior Joey Ford, combined to shut down (Cottonwood) Mingus, 4-2.

But the "Falcon Flingers" weren't done: on Monday afternoon, junior Jared McIntyre started and pitched four shutout innings; junior Grant Lasley came on to finish up: Falcons, 5 - Queen Creek, 1. In five games, CSHS pitching had yielded a measly six runs! And front-line starter senior Joey Ford was used only in 1 1/3 innings of relief against Mingus. Ford got the start in the March 15 Semis vs. Thunderbird at Greenway. If the Falcons advanced to the title game at Grand Canyon University, Wednesday evening, first pitch 7 p.m., Pitching Coach Andrew Speer will likely recommend to Coach Grace that Walter get the start, saving O'Grady to face McClintock. Remember, fans: tournament games do not count in won-lost records or A.I.A. Power Points calculations.

Then on Thursday, March 17, the Falcons travel to "no lights" McClintock to open their Desert Sky Region schedule. Then finally, the following afternoon, it's home to Falcon Field for a make-up game against the Flagstaff Eagles. Whew! A "killer" schedule.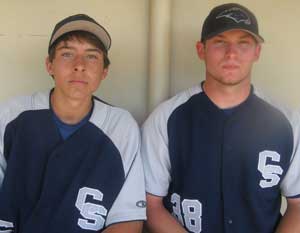 Coach Grace's low-keyed assessment of his team's progress? "The guys are starting to get serious about baseball. They're playing well, having fun … and we're coming along." Can the Falcons keep rolling? I'm bettin' on 'em!

A solid tandem: starting pitcher junior Jared McIntyre (l) hurled four shutout innings, and junior Grant Lasley (r) finished up with three "bulldog" frames in relief, as the Falcons beat Queen Creek, 5-2, Monday afternoon, March 14. The win advanced the Birds to Greenway High School the following afternoon, where they met Thunderbird in the "Spring Classic" semifinals.