MARCH 16, 2011
Desert Foothills Theater presents "A Dan-Dee Musical Revue" March 24 – April 3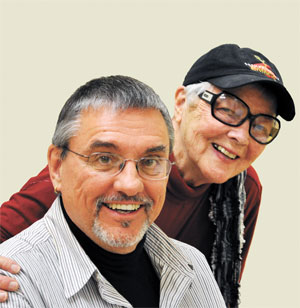 Musical director Dan Kurek and Emmy award-winning choreographer and director Dee Dee Wood have created a new production,
"A Dan-Dee Musical Revue" for Desert Foothills Theater. The show runs March 24 through April 3 at Cactus Shadows Fine Arts Center.

Courtesy Photo/Meribeth Reeves
Emmy award-winning choreographer and director Dee Dee Wood, whose impressive credits include Broadway and Hollywood blockbusters, joins with long-time collaborator and musical director Daniel Kurek to create this new review featuring Kat Bailes, T.A. Burrows, Roy Hunt, Michael Stewart and Shannon Wallace with a special guest appearance by jazz musician Charles Lewis. The evening will include music from Chicago, Les Miserables, Guys & Dolls, Kiss Me Kate, All Night Strut, Pajama Game, Hot 'N Cole, Damn Yankees and more.
Wood was inspired to team up with Kurek after DFT approached her to do another show. Both long-time DFT advocates, Wood and Kurek have collaborated on two previous DFT productions.
"When Dan and I started to talk about creating a new show, we both agreed that we wanted to work with performers who we worked with in previous shows," Wood said. "It is very different from being handed a complete musical script with lyrics. We're creating this together. It's really a joint effort between us and the cast."
Wood is excited to see it all come together, especially since the show is a new production.
"It is feeling good," she said. "We are enjoying the music, the rehearsals, the trials and tribulations, and that's show biz, folks!"
Meribeth Reeves, DFT's managing director, said the new show provides a rare chance to see some of the Valley's best talent performing together under Wood and Kurek's direction.
"We know that any Dee Dee Wood production is a great DFT production. We can't wait to see Dee Dee light up our stage once again," she said.
Because this is the premiere of "A Dan-Dee Musical Revue," tickets are expected to sell quickly. Tickets are $25 per adult and $18 per student. For specific show days and times, visit desertfoothillstheater.com or call 480-488-1981.