BY PETE MOHR | MARCH 9, 2011
Chad DeGrenier new head football coach at east valley's Mesa Mountain View
Will become only the fourth head football coach in school's 35-year history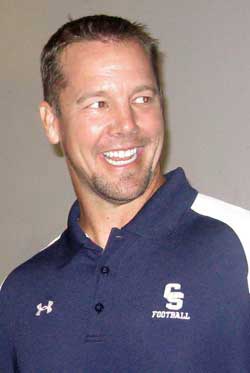 CSHS – From my long-ago days in the U.S. Navy: "There's always 10 percent that doesn't get 'the word'." And until Monday, March 7, this writer didn't get the word that Chad DeGrenier, 38, would be resigning his head football coaching position at Cactus Shadows to become Head Football Coach at (Mesa) Mountain View High School. DeGrenier's selection was approved by the Mesa School District Governing Board on March 8. DeGrenier will continue in his positions as freshman baseball coach and physical education instructor until the end of the current school year.

"Obviously, leaving Cactus Shadows was a very difficult decision for me," DeGrenier told Sonoran News. "I've taught in CCUSD for 14 years and have had the privilege of coaching Cactus Shadows football for the last seven seasons. It's been a growing experience for me, and I shall miss my players and my faculty colleagues. Winning the 4A Division II State Championship in 2006 will always be an unforgettable memory. I want to thank everyone at Cactus Shadows and in the Desert Foothills community who helped make that accomplishment possible."

Challenges are not new to DeGrenier. As I've opined previously in this newspaper, he was dealt the worst possible hand when he was "administratively" thrust into the head coaching position in the spring of the 2004 season. Without complaint, he endured a 0-10 season; but in that winless embarrassment, he laid the foundation for a State Championship only two seasons later.

He'll face an immediate challenge at Mountain View, getting the "Toros" back on track after their 2010 5-6 record, the first losing season in the school's history. "I'm looking forward to coaching at the highest competitive level in Arizona high school football. Mesa Mountain View's football tradition is a standard I'll try my hardest to live up to."

The "Toros" take their football seriously, having won eight State Championships and been runner-up in five seasons. In the school's 1976 – 2011 history, their combined record is 359-75-2.

Principal Steve Bebee to Sonoran News: " This is a sad day for Cactus Shadows High School and for Falcon football. In my two years of working with Chad, I've come to recognize that he is the individual most responsible for rebuilding our football program and putting Cactus Shadows football on the map. I've pursued my own dreams in education; so I can understand Chad's ambition to pursue his in the football coaching profession. His hiring by Mesa Mountain View represents a great opportunity, and we wish him every success, which I'm sure he will have." Bebee's objective is to hire the new head football coach by the Easter break.

DeGrenier declined to name which of his assistant coaches will be accompanying him to his new position. He acknowledged to Sonoran News that his first task is "to build my staff." He and his family (including the newest DeGrenier, first son Jace, born Jan. 10, 2011) will continue to reside in the Desert Foothills. "To the extent my new responsibilities will allow, I'm going to stay involved in this community."

Congratulations, "Coach D." and every best wish for your success as Head "Toro"!