MARCH 2, 2011
2nd Annual "Bulls 4 Boobs" Breast Cancer fundraiser invasion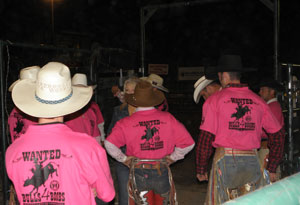 CAVE CREEK – Get ready for the 2nd Annual 'Bulls 4 Boobs' fundraiser hosted by Team W.I. S.H. Arizona and the Buffalo Chip Saloon & Steakhouse, Cave Creek, on Friday, April 15, from 5:30 – 10 p.m.

Bull riding is an extreme sport with cowboys on-board who have the tenacity to try and hang on for '8 seconds' of glory. Not to be outdone, 46 members of Team W.I.S.H. will participate in the AZ 3-Day 60-mile walk, Nov. 11-13 in the Phoenix area and raise funds to help find a cure for this horrible disease.

Team members will be on hand every Friday night starting March 11 along with these 'bovine athletes' through the finale April 15 selling raffle tickets, Bulls 4 Boobs event shirts, pink ribbons and more. And the Buffalo Chip will be serving up great food, two-stepping music and barrels of fun for every age!

"We could not have been as successful last year without the support of Buffalo Chip owner, Larry Wendt and his staff along with all the contributors and media that got behind this event," agrees Kira Westin and Carol Stacy, Team W.I.S.H Arizona members. One in eight women will be diagnosed this year along with more then 1,800 men and breast cancer doesn't stop at any age. This past winter, NBC TODAY Show interviewed a '6-year old girl' who was 3 years old when her parents discovered she had breast cancer and has since gone through a mastectomy, many operations and is currently cancer free.

So … pull your boots on, get out your Friday's best and scoot up to the Buffalo Chip for a 'rock'em sock'em' fundraiser and show your support because … 'everyone deserves a lifetime!'

Last year Team W.I.S.H. Arizona reached a milestone and since the birth of the team in 2004, they been the only Arizona based team to raise over $1,000,000 for Susan G. Komen For the Cure.

Team W.I.S.H. Arizona is a recognized 501c3 and is organized to raise funds for charitable organizations promoting breast cancer education and research.