BY PETE MOHR | FEBRUARY 23, 2011
'Momma G's' Girls open Softball season at competitive CDO Tourney, Feb. 24-26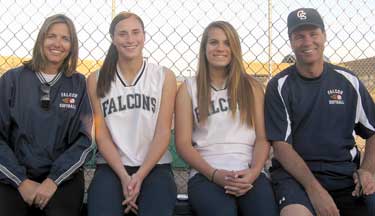 (L-r) Head Coach ýMomma G,ţ All-State shortstop senior Gracie Goulder, senior pitcher/1st baseman Amber Underdown, Assistant Head Coach Bill Ferguson. Not available for photo: senior pitching ace Camille McIver, senior centerfielder Elyssa Hartsock. Photo by Pete Mohr

CSHS – Does "mo" (momentum) carry over from one season to the next? Head Softball Coach Danica Gianni and her Lady Falcons are about to find out. Seeded #14, they ended their 2010 season with a strong State Playoffs run, upsetting #3 Peoria, 17-13, before losing a windblown heartbreaker, 1-2, at Canyon del Oro to the perennial softball power Lady Dorados. Back down to CDO they'll go, Thursday-Saturday, to play in the competitive "CDO Classic."

Post-practice Tuesday, Sonoran News asked Coach Gianni how her squad would benefit from playing a tough early-season tournament? She was quick – and positive – with her answer: "To show these girls how much they've improved … and to convince them that we will be a contender for the State Championship." "Momma G" is dead, doggone ser'rous!

Veteran seniors Camille McIver and Amber Underdown are the Lady Falcons' 1-2 pitching tandem. The infield is anchored by super athlete Gracie Goulder, one of the leading shortstops in Arizona high school softball. Anything her four older brother Baseball Falcons did, "Grace" can do better! Post CSHS graduation, she'll be playing for the Division I Georgia Bulldogs. Fellow senior Elyssa Hartsock, who plays a mean snare drum, covers a lot of ground in center field. She can also back up sophomore catcher Taylor Decker.

Softball fans can "catch" the Lady Falcons in their first two home appearances: Feb. 28 vs. Raymond Kellis and March 1 hosting Flagstaff.