BY PETE MOHR | FEBRUARY 23, 2011
Varsity Soccer Gals team awards!
Those "other" Lady Falcons (Catalina Foothills) may have blanked "our" LadyBirds, 3-0, then gone on to win their second consecutive State Championship; but that disappointment didn't spoil "our" celebration of a great season! At Gallagher's, Thursday evening, Feb. 17, Head Coach Jeff Vittorio presented letter certificates to his players, proudly announcing that their total 128 goals scored vs. only 20 goals against had broken the CSHS record by 35 goals!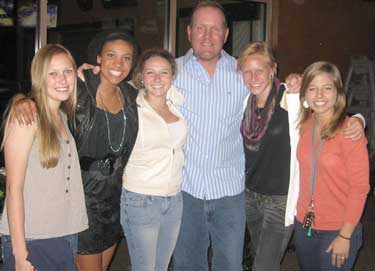 He then honored his 2010-2011 Team Awards winners (l-r) with Coach Vittorio: Co-Captain Tiffini Maitland (Defensive Player of the Year), Taryn McClendon (Co-Offensive Player of the Year, with 26 goals and 14 assists), Tali Reisman (Falcon Award for outstanding spirit and character), Lauren Lazo (Most Valuable Player, with 18 goals and 22 assists) and Bethany Park (Co-Offensive Player of the Year with 17 goals and 23 assists).

You five seniors will, for sure, be missed; but Coach Vittorio is already rarin' to go for next season! His rising senior co-captains will be Saige Williams (2010-2011 junior co-captain) and newly named Brenna Leech. Congratulations to all award winners, certainly to include Desert Sky Region Coach of the Year … Jeff Vittorio!

And thanks to Kim (Mrs. Jay) Williams and her "Soccer Moms" crew who put on such a fitting and enjoyable conclusion to the 2010-2011 season.
… and don't forget the 11-0 JVs!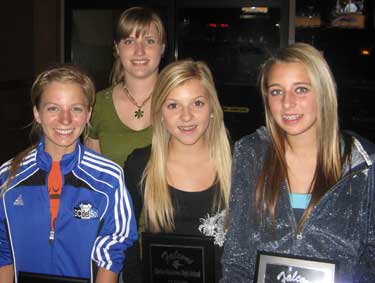 Behind every winning Varsity, there's usually a successful JV squad. For Girls Soccer, 2010-2011 was no exception. Andrea Hatch [CSHS '06] coached her young ladies to an 11-0 undefeated season, in which 15 individual scorers put up an eye-popping 81 goals! Photographed by Sonoran News with Coach Hatch: (l-r) freshman Savannah Sibold (Offensive Player of the Year), freshman Bridgette Sabanosh (Most Valuable Player) – Coach Hatch: "She showed the most heart!" – junior Jessica Luhrs (Falcon Award). Not available for photo: Danielle Mink (Defensive Player of the Year). Varsity Head Coach Jeff Vittorio eagerly awaits you four!