BY STEPHANIE HABIB, CACTUS SHADOWS HIGH SCHOOL | FEBRUARY 16, 2011
Cactus Shadows Shadowbox Players among the first nationwide to perform Hairspray!

Scottsdale – With the recent release of the production rights for high school performances of the Broadway hit musical Hairspray; Cactus Shadows has secured a spot as one of the first high schools in the nation to present this new "classic" to audiences.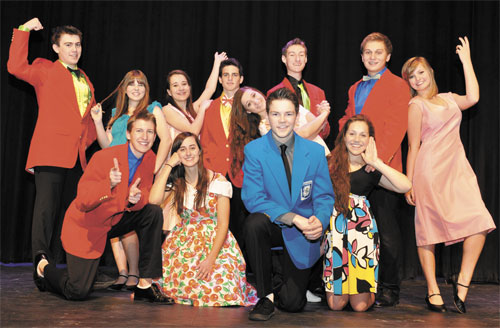 (l-r) Tommy Gladden, Aaron Potter, Amy Almond, Kathryn Stevens, Brittany Svoboda, David Long, Greer Temnick, Garrett Boyd, Tyler Kenyon, Brianna Shelly, Owen Welch, Demi Wood.
Courtesy Photo/TAYLOR FLAMINI, CACTUS SHADOWS HIGH SCHOOL
Opening Night of Hairspray, directed by Andrew Cupo, is March 3. The show will run Thursday, Friday, and Saturday for two weekends until March 12. Doors will open at 6:30 p.m. for the 7:30 p.m. performances at the Cactus Shadows Fine Arts Center, located at 33606 North 60th Street, Scottsdale 85262, one half mile south of Carefree Highway.

The performances feature Cactus Shadows junior Jamee Hanson as the congenial Tracy Turnblad and sophomore Garrett Boyd as the charming heartthrob, Link Larkin. Fifty-eight students, members of the Shadowbox Players from Cactus Shadows High School, make up this exceptional cast.

Tickets for Hairspray's thrilling story of self-acceptance and racial tolerance are $12, though with the presentation of a student ID, students may purchase tickets for $8, online at seatyourself.biz/cactusshadows or at the door.

For more information, call Andrew Cupo, Cactus Shadows Theater Director, at 480.575.2114.