FEBRUARY 2, 2011
6,000 Steelers and Packers fans to descend upon Cave Creek on Super Bowl Sunday
"Fans Kick Their Cans" Challenge – Foothills Food Bank will weigh donations after the Big Game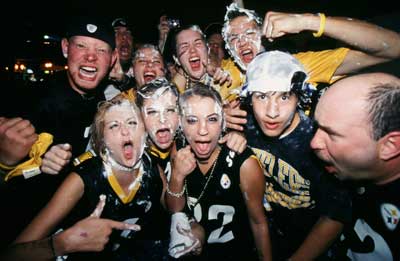 CAVE CREEK – One of Arizona's last authentic Western small towns will transform into a sea of black and gold and green and gold on Sunday, February 6 as nearly 6,000 fans descend upon it to root for their beloved Pittsburgh Steelers and Green Bay Packers teams in Super Bowl XLV.

Cave Creek is gearing up for perhaps two of the largest rivalry Super Bowl parties in the nation. The tiny desert town just north of Scottsdale is home to the nation's largest Steelers bar, Harold's Corral, which happens to share a dirt parking lot with The Buffalo Chip Saloon, one of the country's largest Packers bars that was rated by PHOENIX magazine as one of the best places to watch a Packers game. The number of fans expected exceeds the town's population of 4,000.

Harold's Corral co-owners Danny Piacquadio and Bill Vale and The Buffalo Chip owner Larry Wendt are working around the clock to prepare for the big day. Piacquadio and Wendt have a fun rivalry bet: the owner of the losing team will wear the other team's jersey for one week.

Both restaurants have also issued a "Fans Kick Their Cans" challenge to bring canned foods and toiletries for a special collection at each restaurant to see which fans donate the most items to the Foothills Food Bank and Resource Center. Volunteers from the non-profit will weigh the donations after the game. The owner of the losing "Fans Kick Their Cans" challenge will fly the other team's flag at his restaurant for one week.

Pam DiPietro, the food bank's executive director, is thrilled. "We always need monetary donations, but we're also in dire need of toiletries, such as soaps, shampoos, laundry detergent, toilet paper, and other items that can't be bought with food stamps," DiPietro said. "We also need peanut butter and jelly, pasta sauce, juice, dried milk, canned pasta, and baby items, such as diapers, wipes and formula."

Harold's Corral is located at 6895 E. Cave Creek Rd.; The Buffalo Chip is located at 6811 E. Cave Creek Rd. The Steelers/Packers game begins at 4 p.m., but fans will begin arriving at noon. Parking: There is limited free parking at both restaurants, with plenty of parking around town and free shuttle service. For best parking, park behind the Post Office on School House Road, just north of Cave Creek Road. Your $5 donation will benefit the Foothills Food Bank.

To reserve seats or a table at Harold's Cave Creek Corral, call 480-488-1906 or visit www.haroldscorral.com.

To reserve seats or a table at The Buffalo Chip, call 480-488-9118 or visit www.buffalochipsaloon.com.