BY PETE MOHR | FEBRUARY 3, 2011
Soccers advance to Saturday's Quarterfinals; Girls rout Prescott, 6-0; Boys "freeze" Independence, 1-0
At Reach 11, Feb. 5: Ladies play #5 Apollo at 12 p.m., Field #7; Boys follow at 11 a.m., at Red Mtn. Field #6, vs. #14 Queen Creek
REACH 11 - Feb. 1 & 2. Greater fandom hath no sportswriter than he endure two hours of nighttime mid-30s (brrr!) to watch Head Coach Tony Vos's Falcons move on to Saturday's Quarterfinals by riding an early 1st half goal by junior Dylan Hartman (alertly rebounding freshman Nick Jackson's shot) and a late sensational save by senior goalkeeper Casey DeBusk to shut out the Indepen- dence Patriots, 1-0, Wednesday evening, Feb. 2. The "Snow Bunnies" (er, the LadyFalcons) were there as a squad to cheer on the Guys. I like your spirit, Gals!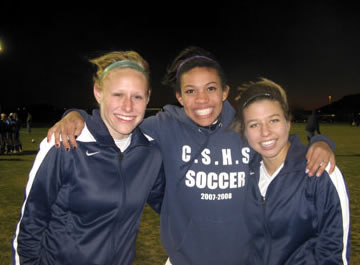 One down, three-to-go -- to a State Championship! Scorers in Lady Falcons' 6-0 1st Round, February 1, win over Prescott were (l-r) Lauren Lazo's "hat trick"(goals #2, #4, #5), Taryn McClendon (#1, #3), Bethany Park (#6).
Photo by Pete Mohr
Postgame, Coach Voss had high praise for defenders Matt Ullendahl, Tyler McKinney, Ryan Leander, Jon Manning and Sean Reiter. But it was DeBusk's stop that made Hartman's goal stand up, thankfully keeping the 1st Round State match from going into OT. Grateful was I for my start-to-finish proximity to "SoccerDad" (daughter Bridgette, a recent "call-up" to Varsity) Jay Sabanosh's Coleman portable propane heater -- and the cup of hot chocolate he thoughtfully fetched me from the nearby Qwik Stop. Thankfully, warmer weather is forecast by Saturday, Feb. 5, when the Falcs will have to beat
#14 Queen Creek, at Red Mtn. Field #6, 11 a.m.
to advance to the Semis in Tucson, Thursday, Feb. 10, opponent TBD.
The Lady Falcons, fresh off their day before 6-0 shutout (senior Kate Accola was in goal) over Prescott, won't have it any easier come this Saturday. They'll meet always-tough #5 Apollo. Against Prescott, the LadyBirds jumped out to a 2-0 halftime lead on goals by seniors Taryn McClendon and Lauren Lazo (recently voted Desert Sky Region's "Player of theYear"). In the 2nd half, McClendon scored goal #3; Lazo, goals #4 & #5, to net her second "hat trick" in as many games; and BethanyPark drilled home goal #6 from close range. A cold north wind was already blowing; but compared to Wednesday evening's game-start, Reach 11 felt like Miami Beach!
C'mon,
both
Falcons: keep it goin'! All the way toTucson!