BY PETE MOHR | FEBRUARY 2, 2011
'4th Period Kids' do it again!
Late rally beats Queen Creek, 65-61
CSHS – Postgame on Jan. 28, Coach Tyler Dummett, rhetorically, to this sportswriter: "How 'bout those '4th Period Kids'?" For the second consecutive Friday night his young Falcons had rallied late in the 4th period, this time, to beat the Queen Creek Bulldogs, 65-61, solidifying the Falcs' 2nd place standing in Desert Sky Region. With D-Sky numbering eight schools, keep in mind that the top three finishers in Region qualify for State. In addition, the latest A.I.A. Power Points Rankings have the 11-2 'Birds at a solid #9.

Trailing the Bulldog visitors, 34-41, at the end of three, Coach Dummett went "small" for speed and quickness. With less than two minutes to play, Eric Johnson's "three" gave the Falcons their first lead at 54-52. But the southeast valley Dawgs wouldn't go away. With 0:30 on the clock, a driving lay-up pulled 'Creek back to 58-60. Then came the "play of the game": Johnson outfought his defender to gain control of C.J. Davis's inbound pass and, in one motion, fired a perfect assist to a streaking Mike Rabbani, who laid in the "two," was fouled, and nailed the free throw for a game-icing three point play!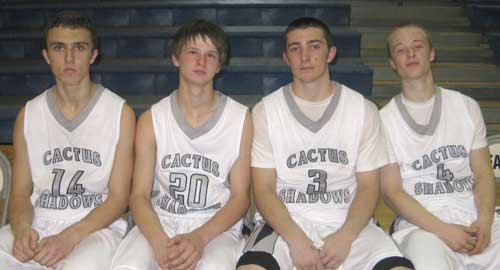 Johnson was unavailable for a post game photo, but Coach Dummett sent out four of his fellow "4th Period Kids." (L-r) Rabbani, Davis, Austin Horton and Perrin, whose 15 points (including 9 of 10 from the line) led the Falcons scorers.

After Sonoran News press deadline, Tuesday, Feb. 1, the Falcons had the tough assignment of traveling to Saguaro to face the Region-leading Sabercats. They'll return home, Feb. 4, for the last of the regular season "Friday Night Fevers" against McClintock, 7 p.m. tip time.

Hey Coach Dummett – "How 'bout them Birds!"