BY LINDA BENTLEY | JANUARY 26, 2011
Special meeting Jan. 31 to decide ballot measure for property tax
'What is the sense of this emergency timing?'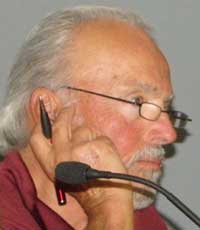 CAVE CREEK – Councilman Ralph Mozilo asked to have a consent agenda item, calling for a special town council meeting on Monday, Jan. 31, removed for discussion.
Mozilo said he was concerned about the subject matter of the meeting, which was to discuss whether or not council wished to approve a ballot measure for a property tax to pay for fire protection.
He asked, "What is the sense of this emergency timing?"
Mayor Vincent Francia stated the timing would allow the measure to appear on the May ballot, which is more cost effective than holding a special election.
Town Manager Usama Abujbarah added the town can only place property tax questions on the ballot during May elections.
Council voted unanimously to authorize the special meeting.
Council also unanimously approved an amendment to the Desert Hills Ranch facility use agreement, updating the existing agreement between the town and developer Gary Pryde to extend the timeline and eliminate the requirement for the developer to provide an oversized well previously required.
The purpose of the amendment was to facilitate getting final plat approval from the county.
According to Town Attorney Marlene Pontrelli, all the other provisions of the agreement remained the same.
Council voted unanimously to award a contract to Foster Electric to replace the Galloway booster station for an amount not to exceed $67,736.
Utilities Manager Jessica Marlow said the Galloway booster pump was one of the oldest and most run down in the water system. She said $52,000 in funding was from a federal grant.
According to Marlow, the town would also receive $8,000 in APS rebates because the type of pump being installed is far more energy efficient and the balance was a budgeted expenditure.
Council passed the first reading of an ordinance adopting "Title IV-Utilities" as part of the town code.
Vice Mayor Ernie Bunch took particular issue with the fees associated with re-establishment of service after voluntary interruption of service, under Section 44-07 and how it affects part time residents.
Currently the fee is based on the number of months service is off times the minimum monthly charge, which for most residential uses is $50, whereas it could cost a part-time resident, gone for six months out of the year, $300 to reconnect his water service every year.
Meanwhile the fee associated with reconnecting service following a disconnection due to delinquency is only $25.
Councilman Steve LaMar agreed with Bunch's concern over the reconnect fee.
Marlow was asked if she could research the actual cost of reconnecting service before the next reading.
Mozilo wondered why the penalty for polluting the water supply was only a misdemeanor and asked, "Shouldn't that be a felony?"
Pontrelli said the town could make it a felony but stated there were other state laws under which such a violation would fall that already are felony offenses.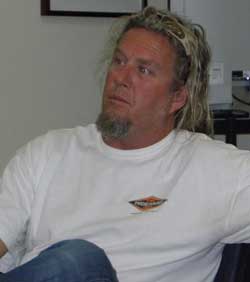 Hideaway owner Mark Bradshaw received unanimous council approval to hold an outdoor concert and motorcycle rodeo on March 26 and 27 on T.C. Thorstenson's properties located across the road from the Hideaway as part of pre-rally events in conjunction with Arizona Bike Week.
Photo by Linda Bentley
Council unanimously approved a special event permit for the weekend of March 26 and 27 requested by Mark Bradshaw on behalf of the Chamber of Commerce for events to be held on T.C. Thorstenson's properties on Viola Lane and Cave Creek Road.
Planning Director Ian Cordwell said if all goes well with this permit application, council had previously designated the authority to staff to approve future permit applications.
Bradshaw said there would be an outdoor concert on March 26 and a motorcycle rodeo on March 27, which he described as a motorcycle stunt-riding exhibition such as the ones held at the Full Throttle Saloon in Sturgis, S.D.
He said the events would be pre-rally weekend events in conjunction with Arizona Bike Week.
According to Cordwell, the applicant must adhere to all the requirements of the special event permit, including noise ordinance compliance, traffic, parking, security, rest rooms, etc.
Councilman Jim Bruce said he was supporting the application hesitantly because of the outdoor concert, while Mozilo cited noise concerns for the people who live around Black Mountain and wanted to ensure dust control measures were employed for the rodeo, stating, "We don't want Maricopa County coming up here over PM-10."
Councilman Adam Trenk said he was "excited to see an entrepreneur in this community take advantage of a statewide event."
Cordwell and Assistant Planner Bambi Muller, who handles most aspects of the special event permit process, assured council, the applicant must agree to comply with all the requirements.
Cordwell also reminded council it could, at any time, decide to have special event permit applications come before council for approval.
It was also noted by Cordwell that Thorstenson has applied for a building permit to develop his commercial property as an event center.
In approving the first reading of the subdivision ordinance, neither LaMar nor Mozilo supported the planning commission's recommendation to include a mandatory binding arbitration clause.
LaMar, while commending everyone that worked on the document, stated binding arbitration does not fit all situations.
Mozilo also wanted to confirm that anyone with two contiguous acres could have horses and the CC&Rs couldn't prohibit such a use.
Francia reminisced back to when the subdivision ordinance process first began and asked if it could be achieved with two statements: "Respect the desert," and "Respect your neighbors."
Francia reminded everyone about the candidate forum at 7 p.m. on Wednesday, Jan. 26.