BY LINDA BENTLEY | JANUARY 20, 2011
Wilcox vindicated by corrupt cabal of conflicted characters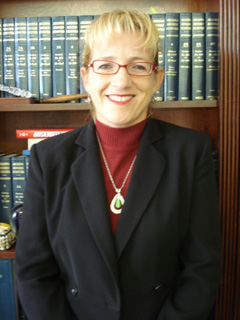 Daisy Flores Gila County Attorney
PHOENIX – On Jan. 18, Gila County Attorney Daisy Flores announced her office will not pursue the public corruption charges against Maricopa County Supervisor Mary Rose Wilcox initiated last year by former Maricopa County Attorney Andrew Thomas and Sheriff Joe Arpaio.
Wilcox was indicted on charges of forgery, false swearing, and perjury, in addition to 18 felony conflict-of-interest counts, as well as failure to disclose a $450,000 loan from the Community Bank of Nevada in 2005.
After a judge determined Thomas's office had a conflict of interest in prosecuting the case, it was transferred to Flores' office for review.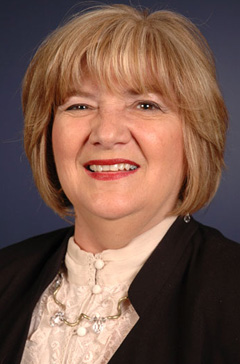 Mary Rose Wilcox
Wilcox and her husband Earl filed a notice of claim against the county for $4.75 million in May, stating this investigation was devastating to their family over the past two years.
In a television interview Tuesday Wilcox said it was a day of gratitude, "We have been vindicated. Everything has been cleared."
When asked about what kind of damages she suffered as a result of this two-year long investigation, Wilcox stated, "Our restaurant, people were scared to come to El Portal," the restaurant owned by Wilcoxes.
People may have been scared to go to the Wilcoxes' restaurant, but it probably had nothing to do with the corruption charges and most likely had to do with the ongoing abysmal health department inspections consisting of repeated major violations beginning in March 2008.
By March 2009, the inspection yielded the warning: "Due to repeated, severe, and/or numerous violations noted on this inspection, legal action is being initiated. Failure to permanently correct violations noted on this inspection may result in probation and/or closure of your establishment."
They were warned again in June after the worst inspection ever recorded against El Portal, with a score of 69 (restaurateurs strive for a score of zero), eight major violations and three repeat major violations.
Several of the violations noted were to be corrected prior to the next inspection. However, when the inspector arrived on Nov. 9, 2010, he noted the doors were locked and he was unable to gain entry.
The inspector tried again on Nov. 15 but the doors were still locked. He noted in his report, "Left a message on the front door requesting information as to whether they are still operating and what hours of operation are. Made an inquiry at neighboring business and was told they haven't opened in at least a couple of months."
Wilcox went on to say in her TV interview, "We knew that we had done nothing wrong. We knew that when an independent prosecutor could look at it – Daisy Flores being that prosecutor – that she would evaluate and look at everything and see that there was nothing wrong. And that's what she decided."
Independent? Not so fast.
If the case was transferred out of Maricopa County due to any sort of conflict, when it arrived at Flores' office, the conflicts quadrupled.
Let's start with the conflicted cast of characters beginning with Peter McKinn, the Top Rank boxing promoter, who wrote a bad $5,000 check to Ramon "Yori Boy" Campas in March 2004. The check, as we previously reported, was never made good, but McKinn and his coconspirators, which included Wilcox, concocted a fraudulent scheme that included a forged cash receipt for $5,000 accompanied by a falsely sworn affidavit signed by McKinn's associate supposedly signed by Campas' trainer Joe Diaz.
McKinn, who has since admitted to manufacturing false evidence against Diaz, conspired with Wilcox, who used her position as chair of the boxing commission and as Maricopa County supervisor, to not only cause Diaz to lose his boxing license instead, but to have the charges against McKinn dismissed.
While Wilcox used her appointed and elected offices to help cover up McKinn's crimes, her husband Earl Wicox, used his position as special assistant to Governor Janet Napolitano and as husband of a Maricopa County supervisor, who sets the judicial budget, in an attempt to influence a judge to dismiss the criminal charges against McKinn, a long-time friend of the Wilcoxes.
And, because Napolitano was apprised in writing of these acts and did nothing, Diaz says she was a co-conspirator in the scheme to frame him and prevent McKinn from being charged for his crime.
On Nov. 18, 2010 McKinn entered into a plea agreement, pleading guilty to issuing the bad check and attempting to cover it up. His sentencing is coming up on Feb. 7.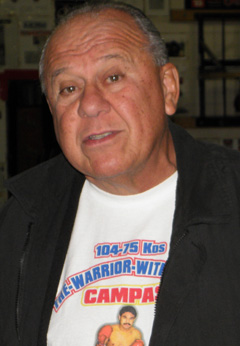 Joe Diaz
Diaz has long questioned why McKinn's criminal charges were transferred to the Gila County Attorney's office. After all, McKinn issued the check in Phoenix. Diaz said he was told by the Maricopa County Attorney's Office there was a conflict of interest because Wilcox is a county supervisor.
While all this was going on, a bar complaint was lodged against Thomas, a Republican accused of being politically motivated in filing charges against Wilcox, Supervisor Don Stapley, a superior court judge and others, oddly, engaged the services of Attorney Ernest Calderon, a Democrat.
It turns out Calderon is also representing Flores and her husband Dr. Timothy Trent. Calderon filed a notice of claim on their behalf on Nov. 17, 2009 for $2.4 million against the Globe Unified School District after the governing board terminated Trent's contract as district superintendent.
While Wilcox proclaimed on the news that Flores was an "independent prosecutor," on April 6, 2005, Governor Janet Napolitano's office issued a press release to announce Napolitano's "appointments to Arizona Boards and Commissions during the month of March."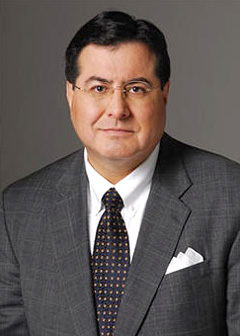 Ernest Calderon
The list of those appointed to Napolitano's Latino Advisory Board included, Flores, Wilcox and Calderon.

Also noteworthy is Wilcox, a 28-year public official hails from Superior, a stone's throw from Globe, Flores' home town. Both towns are in Gila County. Calderon is from Morenci, just across the San Carlos Indian Reservation from Globe, in Greenlee County.

On Tuesday, newly seated Maricopa County Attorney Bill Montgomery stated, in response to the Wilcox public corruption matter, "Absent any additional evidence, I do not intend to request further review of this matter by an outside investigatory or prosecuting agency."

It would appear funneling both McKinn's and Wilcox's cases to Gila County was deliberate, where Flores, who has sat on an advisory board with Wilcox, and who is using the same attorney Thomas engaged while he prosecuting the Wilcox corruption charges, is not just a casual appearance of conflict of interest but highly conflicted.

Flores has already indicated in McKinn's case, because he is a first-time offender, he could be eligible for probation.

And, in dismissing the other underlying charges, which included conspiracy, it would appear Flores will be letting Wilcox off the hook again.

If the conspiracy charge is dismissed against McKinn, can Wilcox still be considered a coconspirator?

Was Flores' plea agreement with McKinn engineered as such for that purpose?

Diaz said he firmly believes it was.