BY LINDA BENTLEY | JANUARY 19, 2011
Fressadi files for bankruptcy
M&I Bank granted summary judgment against Fressadi in foreclosure action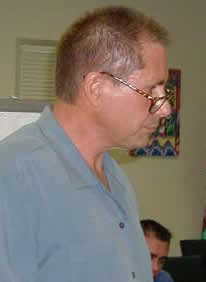 CAVE CREEK – On Jan. 7, Maricopa County Superior Court Judge John Rea, after taking the matter under advisement, ordered M&I Bank's motion for summary judgment in its foreclosure action against Arek Fressadi for the School House Road property granted.

Rea noted Fressadi's counterclaims, "even if valid, are not set-offs or other defenses to the bank's claim. There are no disputed questions of fact as to the note or default."

On Jan. 17, Fressadi filed for bankruptcy under Chapter 11, claiming $317,416 in assets and $1.2 million in liabilities, with more than half listed as unsecured nonpriority creditor claims.

Tucson Attorney Jay K. Powell agreed to handle Fressadi's bankruptcy proceedings for $10,000 with $5,000 paid in advance.

Fressadi stated his current monthly income as $1,600 and has included amongst his list of personal property an unsold movie script valued at $100.

While he claims income derived from his occupation in construction as an independent contractor for 17 years, Fressadi has not had a valid license with the Arizona Registrar of Contractors since 2008, and records indicate he has only been licensed in Arizona since 2002.

Fressadi claims $1,250 per month in income from real property. He also receives $566 per month in state welfare for food and medical expenses, bringing his total combined average monthly income to $3,416.

Fressadi indicates his average monthly expenses total $2,809, leaving him with $607 in net monthly income.

It wasn't clear if the $1,250 monthly income is from renting out his property on School House Road. If so, in light of the recent court ruling in favor of M&I Bank, that source of income could soon disappear.

According to M&I's Attorney Corey Foley, who just received notice of the bankruptcy filing on Tuesday, they will most likely file for relief from any stay prior to submitting the final form of order to Maricopa County Superior Court to finalize the foreclosure on the School House Road property.