BY PETE MOHR | JANUARY 19, 2011
LadyFalcons get huge win!
Outcondition #1 Sunrise, 4-1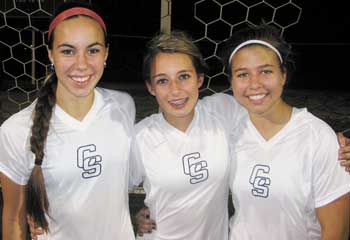 Postgame, Head Coach Jeff Vittorio accurately described to Sonoran News his Lady Falcons' 4-1 victory last Friday night over previously undefeated and #1-ranked Sunrise Mountain: "It was a huge win for us! Yes, I'm celebrating with our girls tonight; but what we want to be celebrating most is a State Championship in mid-February." Down 0-1 at 34:55 of the 1st half, senior forward Kylie Orlando (above, l.) netted the all-important equalizer off a great carry down the right sideline and shot by sophomore Katelyn Mardeusz. "In the 2nd half, we wore 'em down," Coach Vittorio evaluated. Freshman Savannah Sibold (c.) booted the go-ahead goal from the left side at 23:18 of the 2nd. Then senior Bethany Park (r.) finished off the Lady Mustangs with her goals at 25:25 and 34:48, the second a left-booted beauty! Coach Vittorio gave high marks to centerback defenders senior Kylee Smith and junior Jordan Nelson and to goalkeeper Kate Accola: "From tryouts through tonight, Kate's progress has been fantastic!" Soccer fans were treated to a center midfielders' duel between the Lady Mustangs' Jocelyn Jeffers, a member of the U.S. National U17 team, and the Lady Falcons' Lauren Lazo, headed to play next fall for Princeton University's Lady Tigers. Respectfully, they embraced at the game's end handshakes. Now that's "Pursuing Victory With Honor." Tuesday morning's A.I.A. Power Point rankings advanced the LadyBirds to #1. Congratulations, Ladies!