BY LINDA BENTLEY | JANUARY 10, 2011
Two Cave Creek teens arrested for tagging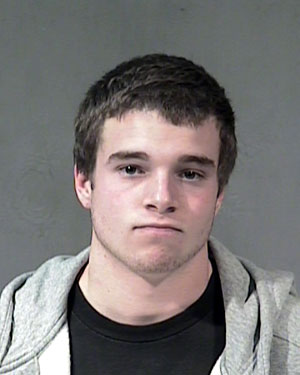 Cody Zimmerman, 19, was booked into the Fourth Avenue Jail on Jan. 6 on a felony count of criminal damage in connection with several tagging incidents in Cave Creek, two of which are pictured here.

Photos by Linda Bentley
CAVE CREEK – Two Cave Creek teenagers were arrested last week and charged with felony criminal damage for tagging, a stylized signature form of graffiti.
Cody Zimmerman, 19, was arrested on Jan. 6 and booked into the Maricopa County Fourth Avenue Jail. He was released at 5:30 a.m. the following day.
Another suspect, a 17-year-old, was arrested on Jan. 7 in connection with the tagging incidents.
According to Maricopa County Sheriff's Office Detective Bentzel, both admitted their involvement in five tagging incidents throughout town, including the wall in the alley behind the Rural/Metro Fire Station on Cave Creek Road, Cave Creek Welding, a wall on Spur Cross Road and power boxes, doing an estimated $1,250 in property damage, some of which has already been repaired.
Bentzel also stated the graffiti was not gang related; it was just tagging.