BY PETE MOHR | JANUARY 12, 2011
CSHS Wrestling making quiet progress
Coach Florez sees 40-member squad in 2011-2012
CSHS – When you see/hear the energy and spirit at a Falcon wrestling practice, you know first-year Coach Richard Florez has his squad headed in a positive direction. Coach Florez to Sonoran News: "Right in here, we're consistently wrestling 25 guys. Based upon the Sonoran Trails wrestlers we're expecting to join our program, we could have a 40-member team next season." Congratulations, Coach.

This season's highlights to date include two tournaments attended over the last few weeks. The first was Campo Verde on Dec. 10 – 11, where four Varsity members placed: 130 lbs. Richard Florez 4th, 130 lbs. Andrew Kassir 6th, 140 lbs. Michael Morales 6th, and 215 lbs. Steven Tibbets 4th. As a team they finished 13th.

They next wrestled in the Ironwood Invitational on Dec. 29 – 30, where several wrestlers placed: 130 lbs. Richard Florez 1st, 140 lbs. Michael Morales 6th, 152 lbs. Nic Erickson, 171 lbs. Ben Barr 4th, 171 lbs. Nate Anderson 7th, and 215 lbs. Steven Tibbits 6th.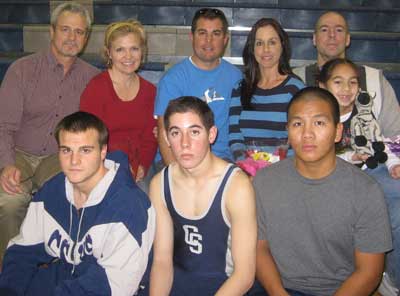 Wrestling's final home match was Wednesday, Jan. 5. Seniors and parents (in parentheses) honored were (l-r) Nic Erickson (Robert and Teresa Erickson), Zach Villalobos (James and Ellen Villalobos), Ben Barr (Paul and daughter, Duyen, 8, an adorable stand-in for Thuynga Barr, who was not available for photo).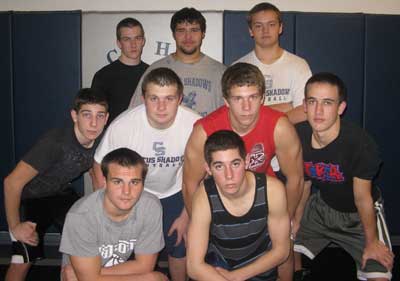 Returning wrestlers and a rookie: (front, l-r) seniors Nic Erickson ("rookie"), Zach Villalobos. [Ben Barr was not available for photo.]; (middle, l-r) juniors Matthew Abbate, Steven Tibbits, Tino Morales; (back, l-r) juniors Joseph Michalski, Adam Sanchez, Gunnar Collier. Note Erickson, Tibbits and Collier were 2010 Football Falcons. Photos by Pete Mohr