BY PETE MOHR | JANUARY 12, 2011
Hoop Guys mauled at home by Sabercats (Jan. 7); fall apart in OT at McClintock (Jan. 11)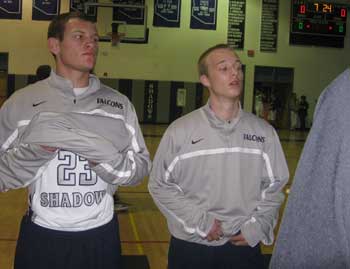 CSHS – "Friday Night Fever" – basketball style. Barrett Gym was jumpin'! "Birds Nest" was rockin' for unbeaten (in regular season) #7 Falcons hosting #9 Saguaro Sabercats: Co-Captains Max Gersh (l) and Casey Perrin to center court for pregame instructions (accompanying photo).

Thanks to Perrin's four-point play midway through the 1st period and Alec Stewart's buzzer-beating two, the 'Birds were down by only four, 17-21, at the end of one. But the Cats' senior guard Jack Connors was shooting lights out (he scored 16 in the 1st half), and the visitors' quickness and athleticism had the Saguaro JV, halfway through the 2nd, loudly taunting, "O-ver-ra-ted! O-ver-ra-ted!" And when Connors & Co. moved out to a 36-24 halftime lead, the Junior Cats chanted their most hurtful derision: "Just like foot-ball! Just like foot-ball!" High marks to the "Birds Nest" for keeping their cool.

Unfortunately, the young Falcons (Gersh and Perrin are the team's only seniors) didn't keep their cool. The 2nd half was painful. This sportswriter's Exhibit A: as time was running down in the 3rd, the 'Birds unbelievably goofed a simple inbound play that resulted in an easy Saguaro layup and free throw: 'Cats, 52 - Falcs, 40. The 4th period was a disaster, with "Sag" reserve Danny Simonson netting two in the last 25 seconds to lift his team over the humiliating 80-points total. Final: 'Cats, 81 - HomeBirds, 56. Connors finished with 34; Perrin (18) and sophomore pivot man Austin Paciora (12), the CSHS scoring leaders.

There was only one ejection (a Saguaro adult loudmouth) halfway through the 4th. And the taunting, at times, cleverly biting? All part of the high school basketball scene. Most often, it cuts both ways. Nearing the end of a Falcon victory, "The Nest" is wont to encourage the visiting team, "Start the bus-es! Start the bus-es!"

On Tuesday night, Jan. 11, the Falcons traveled south to McClintock for a Region contest. After fighting back to a 70-70 tie before blowing a chance to win in the last four seconds of regulation, the Falcons checked out in OT, falling to the Chargers, 85-72. Mark your sports calendar for Friday evening, Feb. 4, to see McClintock's superstar, Cameron Forte. Last weekend, against J.L. Combs, Forte's 60 points set a new 4A-I single game scoring mark. He had a bad night against our Hoop Guys, falling off to a measly 49! Soph Mike Rabanni's 17 led the Falcons.

So what's to think about the Falcs? I say they're going to be fine, with an opportunity to regroup against A.J. (Jan. 14), Combs (Jan. 18) and Campo Verde (Jan. 21) before a Jan. 25 road battle at Poston Butte. The young 'Birds need "cool" and "consistency." Give 'em time. They'll grow into both.