BY PETE MOHR | JANUARY 5, 2011
B-R-R-R! Frozen Hoop Gals are 0-3 in 'Energy Classic,' but strong defensively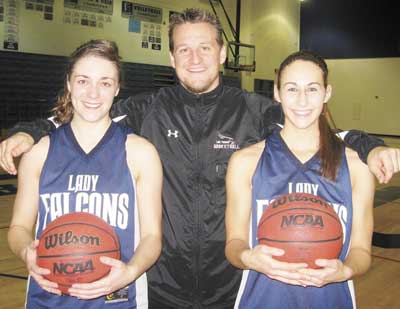 Teeth still chattering, Head Coach Ryan Pletnick and seniors Tri-Captain Kara Curley (l) (All-Tournament Team) and strong performer Kaylee Paciora smiled for Sonoran News after Monday's practice. In Gillette, Wyoming's 26-below wind chill environment, the only smiles were of the frozen variety! Photo by Pete Mohr

GILLETTE, Wyo. – This writer seriously doubts that travelocity.com features Gillette, Wyo. as a getaway destination for New Year's Week. But after their flight to Denver and a five-hour bus ordeal (7 1/2 hours on their return in blizzard conditions), that's where Head Coach Ryan Pletnick's Lady Falcons ended up to play basketball in Gillette's "Energy Classic," Dec. 28-30. It was the LadyBirds' second consecutive appearance there. (On his return trek to the North Pole, Santa Claus stopped off to serve as official scorer.)

The tournament, of course, was played in the cozy confines of the Campbell County High School gym; but outside, the thermometer, factoring in wind chill, read a brisk 26 degrees below zero! Holy Toledo, Coach Pletnick! 26 below?! Now that's cold!!!

In a Monday night telephone interview, Coach Pletnick lamented, "Our shooting was as cold as the weather; but in the run-'n-gun style of basketball they play up there, I was pleased with the way we were able to lock down defensively. And the 4,500 ft. elevation was definitely a factor. Our starters 'gassed' earlier, so our younger players had to step up and grow, which they did. I'm proud of them."

The Ladies fell first to Mandan (N.D.) High's Lady Braves, 54-29, after trailing, 16-24, at the half. Tri-Captains Kara Curley, Kelsey Easterbrook and Ashley Nguon each had six points.

Next up, the Holy Cross High School Lady Crusaders, unbeaten at 10-0, from Saskatoon, Saskatchewan. The LadyBirds had two chances to tie in the final minute, but turned the ball over on successive possessions, losing, 26-31, in a low-scoring contest. Curley's nine and Easterbrook's six topped the CSHS scoring.

In their third and final game, the LadyBirds lost, 40-48, to Calgary, Alberta's Sir Winston Churchill High School's Lady Bulldogs (you gotta love the nickname!). Easterbrook (13) and Curley (10) led the Gals. Curley was honored with a selection to the All-Tournament Team.
Coach Pletnick's good-natured summation: "We played competitive basketball; had team-bonding great fun; and saw a lot of snow!" Glad you made it back, Ladies. Now beat Queen Creek (at home, Jan. 4) and Saguaro (away, Jan. 7).