BY LINDA BENTLEY | DECEMBER 29, 2010
Teflon Turk at it again in California
NEWPORT BEACH, Calif. – In February 2009, Reha Mehmet Soylular, 46, who used to run Ti Amo Restaurant in Cave Creek, Baci in Desert Hills and then Meridian in Anthem, entered a plea agreement in U.S. District Court for the Central District California, pleading guilty to one count of fraud.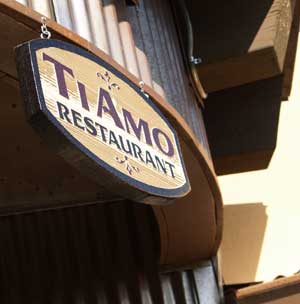 Court documents indicate, from 2002 to 2004, Soylular perpetrated an identity fraud scheme by obtaining real persons' names and social security numbers, without their knowledge and consent. He then used those identities with the intent to defraud, to open merchant teller accounts with a variety of credit card processing companies for supposed restaurants located in Orange County, Calif.

Once the applications were processed, Soylular received credit card terminals associated with each of the merchant teller accounts.

According to the statement of facts laid out in his plea agreement, Soylular then hand-keyed stolen credit card numbers into the terminals for nonexistent sales. Charges were billed to the credit card holders and deposited into accounts held by Soylular and his co-conspirator Zeki Delgir.

Opening restaurants was simply a means for Soylular to gain access to credit card numbers.

As part of the plea agreement, Soylular agreed to pay $17,327 in restitution to his victims, while agreeing not to seek discharge of any restitution obligations through bankruptcy proceedings.

Soylular was also required to surrender his Turkish passport, which expired in November 2004.

Out on $5,000 bond, Soylular was sentenced on Dec. 2, 2009 to seven months in federal prison, followed by supervised release for three years. However, he has yet to serve that sentence.

Soylular's self-surrender date of Jan. 29, 2010 was continued to March 26, 2010.

In March, the court granted Soylular's motion to file documents under seal and extend his self-surrender date to September 2010.

In September 2010, the court granted another motion to extend his self-surrender date to December 2010.

On Dec. 17, the court granted another motion to extend his self-surrender date.

Because all documents are filed under seal, the reasons for extending his self-surrender date are unknown.

Meanwhile, Soylular, who now lives in Costa Mesa, Calif., has been busy, once again, stealing identities and more.

We received a call last week from Sam Onat, who was befriended by Soylular only to become one of his latest victims.

He said Soylular opened a Citi Bank account under the false name of Mehmet Reha Lular and has obtained utilities, satellite TV and possibly other accounts using other people's Social Security numbers.

Onat said Soylular is currently in the process of opening a new restaurant in Newport Beach called Mama Mia.

He also said when he went to purchase a new Cadillac SRX, Soylular convinced him he shouldn't use cash to make the $5,000 down payment because it "doesn't look good." So Onat gave the $5,000 cash to Soylular, who wrote a check for $5,000 from the Citi Bank account he opened under the bogus Lular name.

Soylular, asked to borrow the vehicle and has since absconded with it and refuses to return it.

The vehicle, however, is in Onat's name and Onat is responsible for making payments and maintaining insurance.

When Onat contacted the police to report the vehicle stolen, they ended up arresting Onat, charging him with filing a false police report.

Police told Onat it was a civil matter. After all, Soylular had proof he wrote a $5,000 check for the down payment.

As part of his February 2009 plea agreement, Soylular also agreed not to commit any more crimes.

It appears, however, he immediately resumed doing just that.

In September 2009, Soylular was charged with unlawful failure to return rented property, a crime allegedly committed on May 7, 2009.

In February 2010, Soylular was facing charges in the North Valley Justice Court for issuing a bad check in July 2009.

I received a phone call from Soylular on March 9, 2010, the same day of his arraignment on that bad check charge. He identified himself, threatened he was coming to get me and said, "Game's on, (expletive)."

In October 2009, Soylular was cited in Orange County, Calif. for resisting a public or police officer. On Jan. 8, 2010, Soylular pled guilty to the charge and was sentenced to two days in jail.

Meanwhile, the Teflon Turk is going about his criminal business as usual right under the nose of the U.S. Attorney, leaving a brand new crop of victims in his wake.