BY PETE MOHR | DECEMBER 29, 2010
Falcons avenge Buckeye, 78-48; Met Sierra Linda (Avondale) – Kofa (Yuma) winner in Quarters, Dec. 29
Nine 'Birds score in 22-point, 3rd quarter explosion that shot down Hawks
"Double your pleasure! Double your fun!" Only three Falcons were in double figures in Tuesday afternoon's Great Desert Shoot Out first-game win: (l-r) sophs Austin Paciora (11) and C.J. Davis (12) and junior Trevor O'Hearn (10); but fifteen Falcs combined for 78 points!

CSHS – Older fans will surely remember the opening words from (the late) Blues singer Dinah Washington's most memorable hit, "What a difference a day makes … twenty-four little hours …" Change Dinah's "twenty four little hours" to "thirty-one learning days" and you can begin to appreciate the Basketball Falcons 6-0 turnaround.

On Friday morning, Nov. 26, in their third (and final) appearance, Paradise Valley Thanksgiving Tournament, the 'Birds played "ho-hum" defense, allowing the Buckeye Hawks to drain fifteen "threes" en route to an 80-72 win. Tuesday afternoon, Dec. 28, in their Great Desert Shoot Out first game, the balanced scoring, high octane Falcons clamped down on the Buckeye shooters and buried the Hawks with a 22-6 third period run, winning by 30, 78-48. The Hawks nailed six three-pointers, the last at the final buzzer.

At 1 p.m., Wednesday, Dec. 29, the Falcons played a quarterfinals game against the winner of Sierra Linda (Avondale) vs. Kofa (Yuma). If the Falcons won, they advanced to that evening's semis against an "opponent to be determined." GDSO finals will tip off, Thursday, Dec. 30, 7 p.m., in Barrett Gym.

Against the Hawks, the Home Birds ran off the first ten points, leading 22-9 at the end of the 1st period. Three "treys" and six free throws brought the "other" raptors back to 41-32 at the break. Leading 44-36 early in the 3rd, eight Falcons broke the game wide open with a 14-0 run: Trevor O'Hearn on a put-back; Tri-Capt. Casey Perrin going coast-to-coast; a fast break and a steal from Tri-Capt. Max Gersh; with Austin Horton, Alex Stewart and Mike Rabbani capping the outburst. At the end of the 3rd, Falcons were in full gear, 63-38. Fourth period "threes" by Eric Johnson, Gersh and C.J. Davis pushed the final margin to 30. "What a difference …" Ah, sing it, Dinah!

Every Falcon "dressed" scored: Davis (12); Austin Paciora (11); O'Hearn (10); Gersh (9); Perrin (8); Johnson (8); Horton (7); Alec Stewart (5); Mike Rabbani (4); Tri-Capt. Jack Bennett (2) – plus valuable rebounding; and Paul Magtibay (2).

Look at the above scoring line to understand Coach Dummett's Postgame evaluation to Sonoran News: "We don't have any 'superstars,' just a group of hard-working guys who understand that if they all pull on the same rope, good things will happen." Coach Dummett went on to praise his squad "for learning how to implement, then execute a game plan. They're learning how to play basketball better." It shows, Coach. It shows.

Following the Holiday Break, the #7 Falcons travel, Tuesday, Jan. 4, to Queen Creek for a Region contest, then return home, Friday, Jan. 7, for an important Desert Sky test against the #9-ranked Saguaro Sabercats. "Friday Night Fever" – indoors!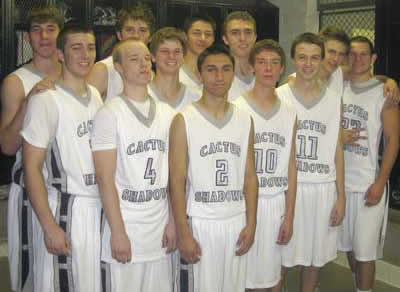 "Ho!-Ho!-Ho!" celebrated these Falcons after they'd unwrapped a late Christmas present for Head Coach Coach Tyler Dummett: a 30-point beat-down of the Buckeye Hawks who'd embarrassed them, 80-72, Nov.26, in the P.V. Thanksgiving Tournament. Photos by Pete Mohr