BY PETE MOHR | DECEMBER 29, 2010
Once a "Saint," now an "Angel"!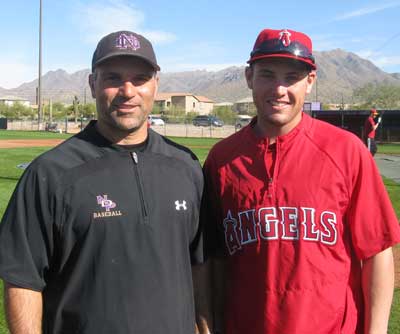 Notre Dame Prep Head Baseball Coach Gaetano "Guy" Gianni (l.) with his "star" alumnus, Peter Bourjos [NDP '05], centerfielder for the Los Angeles Angels of Anaheim.
Photo by Pete Mohr

ANAHEIM, Calif. – If you were following the Cactus Shadows – Notre Dame baseball rivalry at the mid-point of this decade, I'm confident you remember the un-bee-leev-able play by the Saints centerfielder, Peter Bourjos [Notre Dame Prep '05].

On a very windy Saturday afternoon in late April, the Falcon ace, Brett Jacobson ("The Big Righthander," I nicknamed him), was in a pitching duel with the Saints' Braden Thompson. Saints were leading, 1-0, on an unearned run. Top of the 4th, bases loaded, two out. Frankie Pena at the plate. He scorched a line drive to left center that had at least a bases-clearing triple written all over it. Not so fast, Falcon fans (including this "homer" writer). Bourjos never gave up on the ball and, with his glove arm fully-extended, made the impossible catch that at least one major league scout still talks about to Pete's Dad, Chris Bourjos, who scouts for the Baltimore Orioles.

On Aug. 3, 2010, Pete (as he prefers to be called) was summoned into the office of Salt Lake City "Bees" (Triple A, Pacific Coast League) Manager Bobby Mitchell. "Pete," he smiled, "this is the best part of my job: you've been called up to the Big Club." After five seasons of paying his Minor League "dues," Pete Bourjos was flying – in a first-class seat, no less – to join the Los Angeles Angels of Anaheim in Baltimore as their new centerfielder.

Angels' Manager Mike Scosia had shifted Golden Glover Torii Hunter, considered by most baseball writers to be the best centerfielder in the American League, to right, and moving veteran Bobby Abreu, one of the most consistent power hitters in the game, to left. Not bad company for a 23-year old rookie. And for Hunter and Abreu, position changes that will likely prolong their careers.

"Yeah, I was excited." Bourjos recalls. "I was hoping that I would be called up sometime in September. It was awesome! But I have to tell you: playing at every level in the Minors was fun. "First, Rookie Ball at Orme, Utah; next, Cedar Rapids in "A"; then, in succession, Rancho Cucamonga ("High A"), Little Rock ("AA") and Salt Lake. His Dad, Chris, whom I had the pleasure of meeting shortly before interviewing Pete at Notre Dame Coach Gaetano "Guy" Gianni's Major League Baseball Camp on Dec. 28, said it all when he proudly observed, "He's earned it."

Pete's delightful Mom, Janet, whom I know through her "special education" teaching responsibilities in the Scottsdale School System, had proudly kept me updated on Pete's progress. Coach Gianni: "He's as outstanding a young man as he is a baseball player." That's easy to see.

Pete went hitless in his first game; but with Valley native (St. Mary's) Brian Mateusz pitching for the O's the next day, he lined a single off the third baseman's glove for his first hit. "I feel like I'm getting better (hitting) now that I'm more relaxed; and I have a lot of confidence in Hitting Coach Mickey Hatcher."

And what do certain of his teammates think of their new centerfielder? Shortly after Pete's August call-up, Hunter to The Los Angeles Times: "He may be the fastest white dude I ever saw!" And Abreu, trotting to the dugout after Pete had made a sensational inning-ending catch, praised him, "Kid, you're fun to watch!"

Congratulations, Pete. I guess it's finally time for me to forgive you for robbing Frankie. And I look forward to seeing you play at "The Big A" in 2011, when I come over to "baseball" visit my valued friend of some 58 years, Spike Bragg, who's a big Angels fan. Thanks for the interview and accompanying photo. Every best wish for a great season!