BY LINDA BENTLEY | DECEMBER 22, 2010
Lakin serving time at Fort Leavenworth
Campaign to free Terry Lakin underway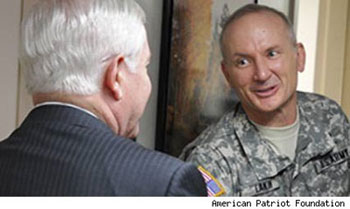 FORT LEAVENWORTH – After being convicted on three counts of disobeying orders and one count of missing movement by a general court martial, Lt. Col. Terrence "Terry" Lakin was sentenced Thursday to dismissal, six months confinement, and forfeiture of all pay and allowances.

Dismissal from the military as an officer is equivalent to a dishonorable discharge and essentially eliminates Lakin's right to all benefits incident to his military service.

Lakin arrived at the prison facility in Fort Leavenworth, Kan. on Saturday to begin serving his sentence.

Anyone interested in writing to Lakin should address their correspondence exactly as follows:
Terrence Lakin #89996
830 Sabalu Road
Fort Leavenworth, KS 66027

According to officials at Fort Leavenworth, no military title may be used, just his first name, last name and registration number on the same line, although we are told some have addressed correspondence to him as Dr. Terrence Lakin.

Lakin may receive letters, greeting cards and post office money orders – nothing else. If anyone wants to send anything else, such as books or magazines, Lakin must first submit a 510 Form for approval and then the item must be shipped directly from the retailer or distributor.

Maj. Gen. Karl Horst, Lakin's commanding general, has the authority to grant Lakin clemency and there is a campaign under way to help free Lakin by contacting Horst through Public Affairs Officer Col. Robert Manning at 202-685-4899 or robert.manning1@us.army.mil.

Manning asks supporters to be mindful that Lakin pled guilty to three charges and was found guilty of disobeying a lawful order from a direct superior officer, while reiterating what Lakin's Attorney Neal Puckett said about the importance of maintaining strict order in the military.

Noting he had already received about 300 calls, Manning said he welcomes all phone calls and e-mails, all of which will be taken seriously and relayed to Horst.

Visit this website to help Dr. Lakin and his family financially.