BY LINDA BENTLEY | DECEMBER 15, 2010
Rezoning by initiative?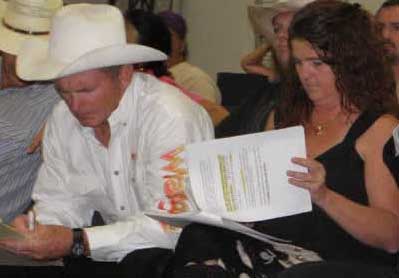 T.C. Thorstenson, pictured during a council meeting where his request to rezone his property on Vermeersch Road was rejected by council, is seated next to Alice Kunka, an advocate for his rezoning and currently a council candidate. Photo by Linda Bentley

CAVE CREEK – After multiple requests to rezoning his residential property on Vermeersch Road to commercial were voted down, T.C. Thorstenson decided to register a political action committee called Citizens for a Commercial Event Center, and proceeded to collect initiative petition signatures as a means to rezone his property.

Thorstenson showed up at town hall to turn in his petitions on Dec. 8 with approximately 135 signatures only to learn the deadline was Nov. 8 for any initiative to appear on the March ballot.

He was also informed by Town Clerk Carrie Dyrek an initiative required 502 signatures.

Believing he needed 126 signatures for his initiative, Dyrek said Thorstenson stated he was misinformed, although he didn't say by whom.

Perhaps the confusion stems from the signature requirement for referendums being 10 percent of the ballots cast in the last election, while the initiative requirement is based on 15 percent of the total number of registered voters during the last election, a substantially higher number.

According to Dyrek, Thorstenson left town hall saying he didn't think he would be able to collect that many more signatures before the end of the day.

Thorstenson still hadn't acknowledged the fact that the deadline for filing initiatives was a month earlier and there is no statutory provision for rezoning property through the initiative process.