BY LINDA BENTLEY | DECEMBER 16, 2010
Domestic dispute on Ocotillo Drive results in homicide
Victim's son in custody in connection with shooting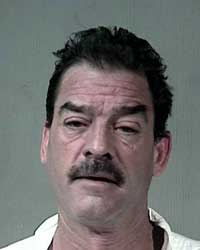 CAVE CREEK – Corey Ray McCleary, 48, was arrested on Wednesday and charged with first degree premeditated murder in connection with the shooting death of his father.

According to Maricopa County Sheriff's office spokesman Jesse Spurgin, deputies responded to a report of a shooting in the 5900 block of Ocotillo Drive at around 2:15 p.m. on Wednesday, where his father, who was said to be confined to a wheelchair, was found dead.

Family members told MCSO deputies that the incident began as a domestic dispute, although it was unclear what the argument was about that would have escalated to murder.

Spurgin said McCleary was arrested without incident about 20 minutes later.

McCleary appears to have a history of troubles involving drug and/or alcohol abuse and violence.

In 1987, at the age of 25, he was convicted of driving while intoxicated with two prior convictions, a class 5 felony. An escape charge, also a class 5 felony, was apparently dismissed as part of a plea agreement.

In 2000, McCleary, after being arrested on charges of assault and animal cruelty, entered into a plea agreement in Cave Creek Municipal Court, which dismissed the animal cruelty charge.

In 2006, his girlfriend sued for paternity and child support in Mohave County Superior Court.

Two years later, she requested and was issued an order of protection against McCleary.

McCleary is being held at the Lower Buckeye Jail in lieu of $1 million bond with an arraignment hearing scheduled for Dec. 22.