BY PETE MOHR | DECEMBER 15, 2010
Seniors-Frosh, Juniors-Sophs battle to 14-14 Powder Puff tie
Susan G. Komen for the Cure benefit enables both squads to overcome horrible officiating!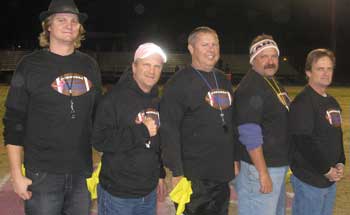 Faculty "Zebras" – without stripes! The decision not to play overtime had these CSHS officials running for cover at game's end!
(l-r) Justin Burns, Russ DelGrosso, Principal Steve Bebee, Dick Butkus (uh, Jim Marando), Mark O'Bryan.


FALCON STADIUM – Nov. 9. Was it the garrulous "Bear" Bryant who grumped long ago, "A tie is like kissin' your sister"? Well, after 60 minutes of heated football action, the Powder Puff 2010 combatants, some 40 to a side, had to settle for a not-too-pleased 14-14 postgame handshake. One irate senior (whom I'll not name) aggressively pleaded with Faculty Advisor Cameron Bender for over-time. Ms. Bender firmly declined; and most of the players then drifted over to the celebratory bonfire – carefully monitored by Rural/Metro.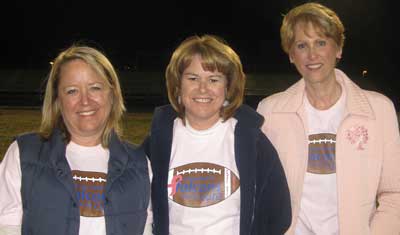 All in all, more than a fun evening for everyone involved, whether you were on the field or in the pink-lighted and pink-ballooned West Stands which were decorated to honor the evening's cause, Susan G. Komen for the (Breast Cancer) Cure.

Photo above: Congratulations and continued best wishes to (CSHS faculty) breast cancer survivors (l-r) Lori Hart, Jill Columbo and Cyd Buckley who served as the coin toss (flipped by Columbo) honorees.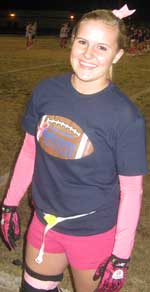 Freshman speedster Shelby Brown (on left) scored the game's first touchdown on a 28-yard sweep. Junior Jenny Gormley, who last spring set a new CSHS record in the 200m dash, flashed her speed to knot the count at 7-7. But the CSHS 2011/2014 gals jumped in front on a 67 yard pass/run from "The Cierra Censations," Co-Captain Cierra Wing (what an arm!) to fellow Co-Captain Cierra Stewart, who did her best John Leonard imitation as she raced down the west sideline for the TD.

In the 4th quarter, SR-FR stopped the "Middle Classes" at the one-yard line! But late in the game, Gormley took off again around the right side for the tying seven points.

Sonoran News is pleased to oblige Student Council's request that corporate sponsors be recognized for their generous support: Walmart, Target, Albertson's and Starbuck's (gift cards for the purchase of concessions); Party People (stadium decorations), Sportslines (field striping), New City Promotions (screen printing on uniform T-shirts), Energy Products (pallets for bonfire) and Satyr Entertainment (bonfire deejay).


Powder Puff 2010 was, indeed, a "team effort" – "team" as in school and community. Congratulations to all involved – including whatever "force" was responsible for the comfortable nighttime weather.

Right: "Quarterbacking" the highly successful, Student Council-sponsored gridiron classic were Event Coordinator Kirsten Saltwick (c), flanked by Faculty Advisors Cameron Bender (l) and Allison Zilka (r). "Well-done, Ladies!"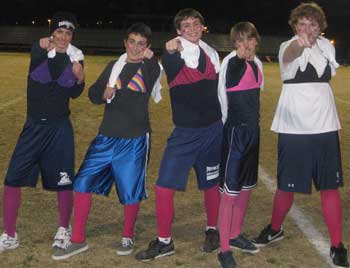 Cheerleaders were down in number from 'Puff 2009 – but these five sophomores, coached by Falcon cheerleader Addison Bonnell, more than made up the difference in spirit: "Fired up! In-tense! Red-Hot Con-fi-dence!" (l-r) Joey Davis, Mike Garfinkel, Cameron Lamp, Tim Rockwell, Travis Potuznik.
Photos by Pete Mohr