BY PETE MOHR | DECEMBER 15, 2010
Soccer Ladies 'fantastic' at Horizon Tourney, says Coach Vittorio
LadyBirds beat defending State Champs (Tucson) Catalina Foothills, 1-0 (4-3) in PK thriller before losing, 0-3, to Pinnacle in Finals
CSHS – Before his Lady Falcons whomped Cactus, 10-0, Tuesday night at Falcon Stadium, Head Coach Jeff Vittorio spared his team no praise for their Runner-up finish at Horizon's always-competitive Tournament: "Our girls had a fantastic tournament! We beat (Tucson) Catalina Foothills (the other "Falcons") in the game we really wanted to win, but that dramatic PK victory probably took a lot out of us – physically and emotionally against Pinnacle the next day. But we won't be afraid to play 'em again."

To get to the Lady Pioneers, CSHS routed Prescott, 7-1, a team senior-depleted from the Lady Badgers who ousted the Lady Falcons in last season's Semis, 2-1 (PK 4-3) – but a big win nonetheless; Seton Catholic, 7-0; Westview, 3-0; then the PK thriller vs. Foothills.

"Storylines" vs. Pinnacle? Once a five-sport (soccer, cross country, track, golf, tennis) Lady Falcon superstar as a freshman, 2009 transferee Beau Bremer scored the Lady Pioneers' first (and winning) goal in the game's first two minutes. And who put up the shutout for the Pinnacle Ladies? None other than sophomore Kandra Manship, younger sister of Jimmy [CSHS '05] and Chris [CSHS '08]. Congratulations, Kandra – and to your parents, Jim and Debbie.

With starting goalkeeper senior Kate Accola sidelined by a corneal abrasion, Coach Vittorio brought up freshman Haley DiNota, who played brilliantly, highlighted by her PK save against Foothills. Sophomore Katie Faller (1st half) and the returning Accola (2nd half) combined to shut out the Lady Cobras. For certain, it's a soccer "good thing" to be three-deep in goal.

Lady Falcons, now 3-0 unbeaten in regular season play, host Region opponent Apache Junction, Thursday evening, Dec. 16, 6 p.m. start, then take a Christmas break until the Verrado Tournament, Dec. 28-29 (details in the Dec. 22 issue). Next home game: hosting Shadow Mountain, Wednesday, Jan. 5, 6 pm.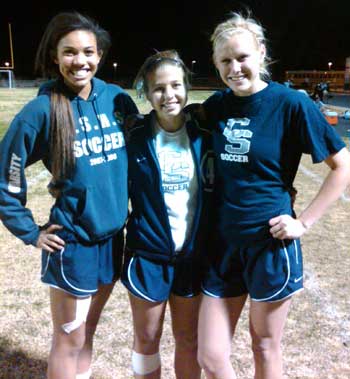 Making a big offensive difference for the Lady Falcons are Club Sereno "expatriates" (l-r) seniors Taryn McClendon, Bethany Park and Lauren Lazo. Against Prescott in Horizon Tourney's 1st Round, Lazo booted five goals! In Tuesday night's home match vs. Cactus, McClendon had a "hat trick" (three goals) in the game's first ten minutes, with Park and Lazo netting goals #4 and #5. Sophomore Sage Larson (#6) and senior Kylie Orlando (#7) sent Sonoran News back to deadline at 7-0. Thanks to Soccer parent Jay Williams for the accompanying courtesy photo and reporting the 10-0 final score.

2010-2011 Lady Falcon Soccer Roster
1 Katie Faller SO, GK
2 Ashley Butcher JR, D/F
3 Tali Reisman SR, MF
4 Bethany Park SR, MF/F
5 Brenna Leech JR, MF
6 Tiffiny Maitland SR, D
7 Kylee Smith SR, D
8 Sage Larson SO, MF
9 Lauren Lazo SR, MF
10 Katie Huettner JR, D
11 Michelle Jouas SR, D
12 Taryn McClendon SR, F
13 Jordan Nelson JR, D
14 Ashlyn Tucker JR, F
15 Kylie Orlando SR, F
17 Shayna Blumberg JR, D
18 Saige Williams JR, D/MF
19 Kate Accola SR, GK
20 Kelli Reid SO, MF/F
21 Chandler Atkins JR, D
22 Katelyn Mardeusz SO, MF/F

Coach: Jeff Vittorio
Asst: Amanda Shimkus
Athletic Director: Rick Swearingen
Athletic Trainer: Courtney Runner