BY PETE MOHR | DECEMBER 15, 2010
Cactus Shadows Competition Cheer: 'They're in the mix for number six!'
Cheerleaders are determined to win sixth consecutive State Championship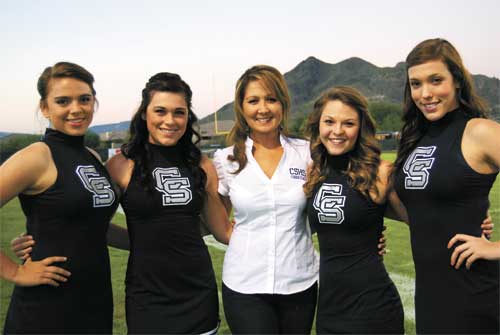 Spirit Line Head Coach Rika Cuff, flanked by her four seniors: (l-r) Kirsten Saltwick, Cierra Stewart, Brittany Nagy and Emma May.
Courtesy photo
CSHS – Counting from Wednesday, Dec. 15, there are only ten shopping days until Christmas. You can be sure that high on Spirit Line Head Coach Rika Cuff's list is winning the Arizona Interscholastic Association's "Spirit Line State Championship" at Tim's Toyota Center in Prescott Valley on Feb. 5, 2011. The Spirit Line title represents a combined scoring of Competition Cheer, 40 percent, Stunt Cheer, 30 percent, and Dance, 30 percent. Stunt Cheer is a one-minute acrobatic performance by a five-member team.
In Cactus Shadows' 25-year athletic history, I offer that the most unheralded, the most unrecognized single accomplishment is Cheer's
five
(count 'em) State Championships won consecutively, 2006-2010, under Coach Cuff's leadership. Starting with her inaugural 2006 season. Close behind would rank the four straight A.I.A. "Spirit Line" titles, 2006-2009. Why has Cheer's remarkable achievement received comparatively little attention?
In this writer's opinion, two reasons: first, there are still fans (and sports media) "out there" who stubbornly refuse to acknowledge competition cheer as a "sport." (I choose not to waste readers' time and my energy debating that fallacy.) Second, unless you are a Cheer parent or "best friend" supporter, competition cheer does not lend itself to being a "spectator sport." There are not many fans (including myself) who will drive up to Tim's Toyota Center to wait for three (Cheer, Stunt Cheer and Dance) performances, each lasting a maximum 2 1/2 minutes. I confess, more than once, to making this request of Coach Cuff: "Coach, be sure to call me and let me know how your girls did."
It's like Coach Cuff recently acknowledged, "It's a one-shot deal."
Everything
is on the line in 2 1/2 minutes after untold hours of rigorous, demanding practices. Rhetorically, so you want to be a competition cheerleader, huh? Can you roll out of your nice warm bed to make daily practice on schooldays, 5:15 - 7 a.m.? Add in tumbling drills every Monday evening, 8 'til 9 p.m. And for good measure, stunt cheering practice, Wednesday afternoons from 3:15 to 5 p.m. All of that effort for a max 2 1/2-minute competition appearance? C'mon, Coach, you've
got
to be kidding!
But Rika Cuff doesn't "kid" when it comes to what's required of herself – and the 30 girls (only 26 compete) who'll take the mat for the Lady Falcons come Feb. 5. "It's my responsibility to teach these girls
respect
…
accountability
… and
commitment
– not only to themselves, but more importantly, to the team. Jealousy, envy, rivalry – very natural emotions in
all
teenagers, not just girls, get checked at the mat before they perform."
At the conclusion of their warm-up session (out of spectators' sight), the girls are energized and strengthened by two traditions: first, they form a circle and sing
Journey's
"Don't Stop Believing!" And then, before they step onto the mat, they join hands in what they call their "Lifeline," signifying togetherness and interdependence in the 2 1/2 minutes that will follow. I know Coach Cuff to be too modest to accept this affirmation: I opine that from Cheer's "Lifelines," she is teaching her athletes invaluable "Life Lessons."
Yeah, it's anything
but
easy to be a competition cheerleader. Good luck, Ladies, come Feb. 5 – and at your National events that will follow later that month and in March. In this mid-December, I wouldn't expect you to understand; but I say you've already "won" – in ways far more important than championships.
Cactus Shadows High School 2010-11 Varsity Cheerleaders
| | | |
| --- | --- | --- |
| 1 | Rheannen Archuleta | Junior |
| 2 | Breana Baker | Junior |
| 3 | Shelby Brown | Freshman |
| 4 | Taylor Brown | Sophomore |
| 5 | Kiri Campbell | Junior |
| 6 | Tatum Campbell | Freshman |
| 7 | Julia Campo | Sophomore |
| 8 | Brooke Cuff | Freshman |
| 9 | Brett Evans | Sophomore |
| 10 | Rachel Kazemi | Freshman |
| 11 | Taylor Kazemi | Junior |
| 12 | Erin Krening | Junior |
| 13 | Sage Larson | Sophomore |
| 14 | Erin Lorenzo | Sophomore |
| 15 | Shae Lowry | Sophomore |
| 16 | Andrea Martinez | Freshman |
| 17 | Emma May | Senior |
| 18 | Tayler McClellan | Junior |
| 19 | Allie McKinney | Junior |
| 20 | Brittany Nagy | Senior - Captain |
| 21 | Riley Ortiz | Junior |
| 22 | Sierra Popp | Junior |
| 23 | Kiersten Saltwick | Senior - Captain |
| 24 | Cierra Stewart | Senior - Captain |
| 25 | Katie Stewart | Junior |
| 26 | Briana VanBibber | Sophomore |
| 27 | Courtney Ehland | Alternate |
| 28 | Dani Bennett | Alternate |
| 29 | Kendal LeBar | Alternate |
| 30 | Hailey Blunt | Alternate |
| 31 | Emily Sills | Alternate |
| 32 | Lauren Sirota | Alternate |