DECEMBER 8, 2010
Obituaries
Mel Clingan
Melvin Hall Clingan of Carefree, Ariz., went peacefully to heaven on Dec. 1, 2010.

He was born in Atchison, Kan., July 12, 1929, and grew up in Salina, Kan., before moving to the Kansas City area. He was the son of Frank E. and Hazel Hall Clingan and had an older brother, Donald Frank Clingan, who died in 2004.

Mel graduated from the University of Kansas, where he was a Summerfield scholar, All-Student Council president and president of Sigma Nu Fraternity. He served in the U.S. Air Force from 1951-55. Mel's business career spanned from home building to newspaper publishing to CEO of the R. L Sweet Lumber Co. He served as president of the Greater Kansas City Home Builders Assn., the Mission Chamber of Commerce, on the school board of Westwood View School District and as 3rd Congressional District GOP Chairman. In 1992, Mel retired to Carefree with his wife Genevieve Stender Clingan.

He had four children by his first wife, Athelia: Sandy Clingan Smith of Brentwood, Tenn.; Scott Sweet Clingan of Houston, Texas; Kim Clingan Bastable of Leawood, Kan. and Marcia Clingan Shearer of Roswell, Ga. He is survived by his wife, Genevieve, his four children, their spouses and nine grandchildren.

Private burial and memorial services will be held. Donations may be made to your favorite charity. No flowers please.
Jerry DeSantis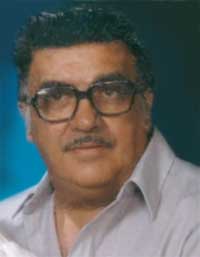 Jerry DeSantis, former owner of TJ's Hardware in Cave Creek, Ariz., passed away Nov. 28, 2010 at the age of 77. He will be greatly missed by everyone in the entire foothills area. For each and every one who stopped to see him, he had an engaging smile, kind words and was always ready with a helping hand.

Jerry was preceded in death by his wife, Bette; his parents, Joseph and Betty and his brother, William Saccente. Jerry is survived by wife of 25 years, Virginia; his daughters, JoAnn (Kenneth) Pierson, Donna Esposito and Robin (Terry) Baldwin; six grandchildren; five great grandchildren and sisters, Virginia (John) Dauro and Theresa DeVito. Services were held on Dec. 2.

A memorial service will be held at the American Legion in Cave Creek in January; details will be announced here as soon as they are confirmed. In lieu of flowers the family requests donations to the Foothills Food Bank, P.O. Box 715, Carefree, AZ 85377.