BY LINDA BENTLEY | DECEMBER 8, 2010
'Culturally competent court' comes at immense taxpayer expense
'… working with culture might mean altering the way the courts traditionally have done business …'
PHOENIX – Last week Maricopa County Superior Court issued an administrative order regarding an "urgent need for a qualified English-Marshallese court interpreter …"

The order noted existing court interpreter vendors did not have qualified and reliable Marshallese language interpreters and stated "due to these circumstances and the urgency in providing interpretation to the judicial divisions and other vital court programs, it is necessary to temporarily engage the services of qualified providers."

It then ordered Paul Peterson be allowed to work as an English-Marshallese contract court interpreter for the current fiscal year and be compensated the same as the existing court contract for interpreters, while exempting him from providing proof of liability and professional insurance, a waiver that appears to be granted to all non-certified contract court interpreters.

After looking a little further into the contracting of highly specialized interpreters, we learned it is not just reserved for criminal matters, many of those with rare language needs are illegal aliens who have served, or are currently serving, prison time and the rates for interpreting vary greatly.

In 2002, a qualified Burmese interpreter cost taxpayers $550 per day plus a $50 per diem, with all travel expenses, including airfare, land transportation and lodging, to be paid by the court.

That was to represent Ta Yoat Ni, an alien with an immigration hold, who was sentenced to 20 years in prison for a murder conviction.

In 2003, Arvinder Singh was contracted as an Urdu interpreter, at the rate of $495 per day plus $50 per diem and all transportation and lodging provided, for defendant Mohan Patel, an illegal alien child molester sentenced to lifetime probation and ordered to register as a sex offender.

Fawzi Halaka, an Arabic-speaking interpreter, was contracted by the court in 2003 at the rate of $400 per day, plus a per diem, with travel and lodging paid by the court, to represent Abo Obaida Hussein, an illegal alien currently serving four 13-year consecutive prison sentences after being convicted of four counts of sexual conduct with a minor. His scheduled release date is 1/12/2055.

Halaka was also compensated at the rate of $26.25 per hour and $0.17 per translated word for transcription services.

In 2004, Anastacio Gonzales Romero, an illegal alien from Mexico, required a Purepecha-speaking interpreter.

The court hired Aristo Valencia from Houston, Texas, at the rate of $225 per day, $50 per diem, and all travel expenses and lodging paid by the court.

Romero, who was arrested in 1995 for aggravated assault and resisting arrest, was sentenced to three years probation in 2001 for assault. He was sentenced to four months in prison for aggravated DUI, the offense that required an interpreter this time around.

Jose Castanon was contracted in 2004 as a Mam-speaking interpreter, at the rate of $250 per day plus per diem, with travel and lodging expenses paid, for Antonio Calmo Mendoza, an illegal alien who was convicted of aggravated assault and solicitation to commit forgery and sentenced to three months in the county jail plus three years probation.

In 2004, the court assigned Bulgarian interpreter Lupko Spasovski, to a family court case involving minor children with compensation "at rates comparable to all other non-certified contract interpreters."

Two years later, when the mother filed a petition to modify parenting time and child support, a motion was made to have a Bulgarian interpreter appointed.

In 2004, Tesfa Araya, an Amharic interpreter, was contracted at the rate of $400 per day with the standard per diem, air fare and lodging clause, to assist Solomon Mengesha, an illegal alien, charged with aggravated assault in a domestic violence case plus a narcotic drug violation.

Mengesha, who was sentenced to four and a half years in prison, had a 1993 conviction in Oregon for attempted rape.

Lilly Mae Bayley, a Tagalog-speaking interpreter, was contracted by the court in 2005 to represent Edwin Corum, an illegal alien who is currently serving a 17-year sentence for child molestation.

Bayley received $800 per day plus a per diem of up to $50, with travel and lodging expenses paid.

In 2005, Guillermo Alonso, a Mixteco-speaking interpreter, was appointed for defendant Nasario Morales-Lopez at the rate of $225 per day or $125 per half day, with mileage reimbursement after 60 miles round trip.

In 2005, Jose Vazquez, an illegal alien from Mexico, was assigned Yolanda Cruz, a Chatino-speaking interpreter at the rate of $300 per day with the standard per diem, travel and lodging clauses.

Vazquez was sentenced to two and a half years in prison for aggravated assault but was released after serving approximately nine months in order to be deported.

In October 2005, Juan Miguel Juan was appointed Julio Gaspar as a Chuj-speaking interpreter at the rate of $350 per day for in-person appearances and $175 per day for telephonic appearances, with the court responsible for per diem, travel and lodging as necessary.

Juan is currently serving a five-year prison sentence for two narcotic drug charges and use of electronic communications in a drug transaction.

In 2005, Ahmed Ibrahim was appointed to interpret for a Somali-speaking petitioner and juvenile at the rate of $40 per hour for in-court appearances.

Jill Parsons, a Maryland based English-Chuukese interpreter, was contracted by the court through Dec. 31, 2012 at the rate of $25 per hour, with a two-hour minimum, plus $0.50 per minute, for telephonic interpretation.

In October 2010, the court stated it was experiencing an "urgent need for qualified English-Grebo court interpreters" and contracted Midwest Interpreting/Translation Services (MITIS) at the rate of $70 per hour for in-person assignments, with a minimum eight hour day.

The rates for telephonic services are $50 for the first 30 minutes, then $1.50 per minute thereafter.

Transcription service provided by MITS is $75 per hour plus the cost of supplies and postage.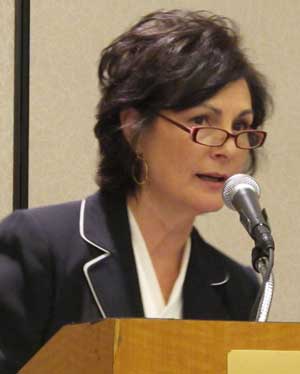 In 2007, Maricopa County Superior Court Judge Barbara Rodriguez Mundell, known for introducing Spanish and Native American DUI courts and who retired earlier this year, helped author a report titled, "Becoming a Culturally Competent Court."

Responding to how courts can develop ways to deal effectively with "culturally diverse groups of litigants and court personnel," the report states "becoming culturally competent is essential to courts today."

In Section III, where it describes a "seven-step process for becoming a culturally competent court," the authors provide detailed examples of how "working with culture might mean altering the way courts traditionally have done business when processing juvenile, family, and dependency cases, providing litigant assistance, and providing mediation services."

Step 7, which deals with performance monitoring, says it will require "building culturally sensitive measures into court litigant satisfaction, budgeting and other on-going forms of performance measurement. For example, constructing measures that gauge the 'healing' of fractured relationships may be more important to some groups than adherence to case processing time measures."

Arizonans passed a constitutional amendment a few years ago declaring English as the official language of Arizona and requiring all official business to be conducted in English.

Perhaps Arizonans can pass an amendment to make American culture the official culture of Arizona so foreigners who find themselves in our courts will need to conform to American culture rather than vice versa.