BY LINDA BENTLEY | DECEMBER 8, 2010
Cave Creek Bicycle Festival an 'absolute, unqualified success'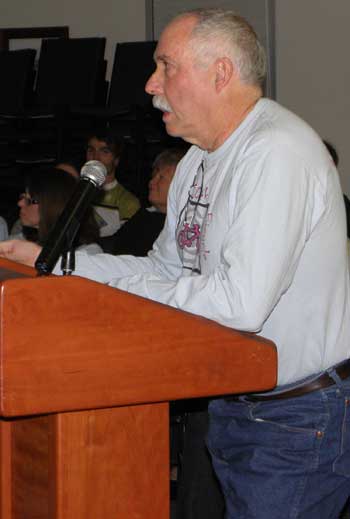 CAVE CREEK – During Monday's Call to the Public, Assistant Utilities Manager and Cave Creek Bicycle Festival Event Director Mike Rigney showed a short video taken with a helmet cam as he thanked all involved with making the second annual event more successful than the first.

The festival, which raised nearly $16,000 or the equivalent of approximately 40 acres of open space, had 25 sponsors, 16 vendors, 75 volunteers and 391 participants, ranging in age from 4 to 71.

According to Rigney, the four-year-old snuck in even though he was under the age limit because he wanted to participate so badly.

Rigney said the event was a great awareness builder for the town and drew people from as far away as Kentucky.

He said the full six-minute video along with comments about the bike festival can be viewed at www.cavecreekbicyclefestival.com and stated the event will be written up in the March issue of Bike Magazine.

Next year's event will be held on Nov. 11, 2011.

Mayor Vincent Francia pointed out the cancelation of the Dec. 20 meeting in the consent agenda, which was approved unanimously.

Council also unanimously approved the second reading of an ordinance to increase the court enhancement fee from $20 to $25 effective Jan. 1, 2011 with Councilman Adam Trenk commenting, "It's a modest increase that's overdue."

Attorney Carol Lynn de Szendeffy, representing applicant David Kipper, during her brief narrative, seemed to answer any questions council may have had regarding the amended site plan and final plat for an additional eight units for Rancho Verde del Rio, a condominium project located southwest of Cave Creek and Basin roads.

Taking the same approach as the Village at Surrey Hills, Kipper has downsized the units, as the four models built have produced no sales.

Councilman Dick Esser moved to approve the amendment and said, "I think what they're trying to do is make their project survive."

The motion was seconded by Councilman Ralph Mozilo, who said the applicant was simply trying to make their project viable.

As council voted unanimously to approve the amendment, Councilman Steve LaMar commented, "It was such a good project when it came through and it's just sitting there. So, anything we can do to help …"

Council voted unanimously to reappoint William Deckman to a three-year term as the Desert Hills Water System representative on the Water Advisory Committee and reappoint Dale Jensen, Joe McGill and Randall Folts to three-year terms on the Building Code Board of Appeals.

With Peter Omundson's term expiring and Bob Williams retiring, there were three applicants for two open positions on the planning commission.

Omundson, who requested reappointment, told council he enjoyed being a volunteer and said he understands the process really well.

The other two applicants, Rae Iverson and Paul Eelkema, both became involved in the town during the general plan amendment application for Area 25, adjacent to their homes in the Estado de Cholla subdivision.

While both expressed an interest in continuing that energy, Iverson has attended every planning commission and council meeting since that time, which may have been the deciding factor in council reappointing Omundson and choosing her over Eelkema.
However, depending upon how council elections go next year, another seat could be opening up on the planning commission.