DECEMBER 8, 2010
Desert awareness program is looking for volunteers
The Desert Awareness Committee is looking for volunteers to help with the fourth grade program "Desert Reach" beginning in January.

The team brings the exciting hands-on desert awareness program right into the classroom. Since 2004, they have shared the fast paced, two hour program with over 1000 fourth graders in the Cave Creek Unified School District.

Once a week, from January through March, they meet at one of the five CCUSD elementary schools to present Desert Reach. A team of trained volunteers carries out the self-contained, portable program, usually presenting it in two classrooms on a given day.

They are planning a training session in early January and seek new volunteers. Please call one of their team today to volunteer or find out more: Fran Wylie at 480-595-5501 or Diane A. Vaszily at 480-488-5477.

Check out their website for more information and to see Desert Reach in action: www.deserteyeeducation.com/DesertReach.html.
DECEMBER 8, 2010
Boosters Tree Sale
'Deck your halls' … with a Boosters tree!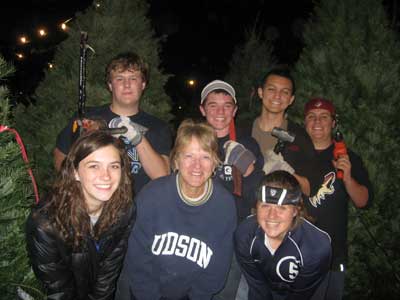 Tuesday night, Nov. 30, was c-o-l-d! But on the CSHS Boosters Club Christmas tree lot (Cave Creek and School House roads), spirits were high among the Veterans Heritage Project volunteers as they prepared for the Dec. 3 start of sales, which will continue through Tuesday, Dec. 21. (Front, l-r) Olivia Slack (SR), Faculty Advisor Barbara Hatch, (JR) Brenna Leech; (back, l-r) Buchanan Chapman (JR), Justin Yeck (SO), juniors Dominick Gehres and Luke Fitch. The trees (from Oregon) are among the most beautiful this writer has ever seen, sizes 5' to 12'. Lot hours are noon until 9 p.m., Monday-Friday; 10 a.m. - 9 p.m., Saturday and Sunday. Help Boosters support Cactus Shadows athletics and activities. "Happy Holidays!" Pete Mohr