BY MARIELLE MARNE | DECEMBER 8, 2010
For taxes, accounting or bookkeeping, bank on Gustafson & Associates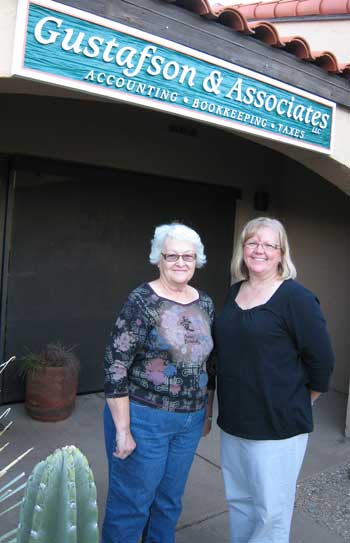 CAREFREE – As the year winds down, wishes of glad tidings fill the air for a lot of folks, but some dread the thought of upcoming tax preparation. "Let's face it, it's scary to get your taxes done," empathized Leslie K. Gustafson (r.) of Gustafson and Associates, LLC. "But we get it done, and we get it done right. We make it as painless as possible."

And while they are true professionals when it comes to tax returns and dealing with the IRS, Gustafson offers a host of other services. Some people may not even realize they could use and even benefit from Gustafson's expertise. For instance, have a rental property?

Gustafson can help you work out the financial aspects. Countless small businesses in the area (and beyond) rely on her bookkeeping and accounting skills. She can assist at the onset with setup as well as assume such duties as payroll and quarterly tax forms. Services even include secretarial tasks-correspondence, mailing labels, pre-tax organization. Office applications are user-friendly in both Mac and PC mode.

Gustafson strives to work with people as to their specific requests. Whether the client is an individual or a business and requires files to be cleaned up or a spreadsheet set up, "services do vary as to what is needed," she explained. So, if you're not sure you need her, give her a call, set up an appointment for a consultation and find out! Even if you do your own taxes, for a nominal fee (that could save you considerable costs if you've erred on one of your forms) Gustafson will review your paperwork and offer guidance. Peace of mind is priceless!

In addition to stellar tax and accounting work, what you'll find at Gustafson and Associates is a true family affair. Alongside Leslie, clients often find her mother, Bette, who has many years of bookkeeping under her belt as well. According to Leslie, she's long since traded in her ledger and is now on the frontline as the "gal Friday." The office is a perfect blend of friendliness, comfort, integrity, knowledge and excellence.

For more details as to specific services, see www.gustafsonaccounting.com or call 480-575-3094 for an appointment. Of course, walk-ins are welcome at 37417 N. Tom Darlington (near the Merle Norman cosmetic studio).