BY MARIELLE MARNE | DECEMBER 8, 2010
A visit from Air Conditioning by Jay techs will assure winter warmth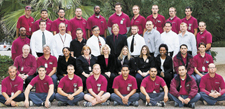 With the year round mild climate Phoenix folks enjoy, it's easy to forget about the mechanics of heating. Most valley denizens have their AC units checked before summer hits with a vengeance, but it's just as important to service your heating system annually.
The professionals at Air Conditioning by Jay are standing by to assure you have no carbon monoxide issues with your unit. They now offer one of the lowest CO level detectors in the industry. The NSI unit is considerably more accurate than those found in traditional hardware stores. Keep your family safe! Call AC by Jay and let the experts first check for any CO leaks and then install a carbon monoxide monitor. It's the most advanced detector available and could be a real life saver!
Of course, trained technicians will also assure your system is running efficiently. In this economy, who can afford to waste money? Be sure to also ask about replacing older thermostats with programmable digital ones. Set them lower while you're snuggled under the covers asleep as well as during working hours away from home to reap greater savings.
Because the contractors are APS certified, Air Conditioning by Jay offers another way to be more financially savvy. Receive up to $250 in rebates when you have your duct work tested and any subsequent repairs made as necessary. Better for your comfort, your wallet and the environment.
There are lots of reasons to use Air Conditioning by Jay. They've not been in business for nearly 30 years for nothing! Visit dialcomfort.com to learn more or call 480-266-3678 to set an appointment.