BY PETE MOHR | DECEMBER 8, 2010
'Disciplined defense' for Lady Falcons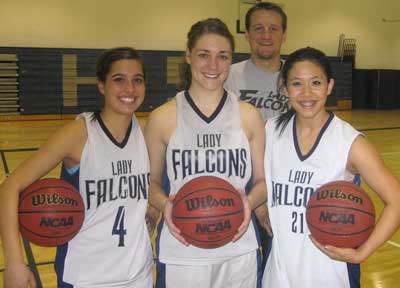 That's what Head Coach Ryan Pletnick ordered up for his Lady Falcons as they traveled to Apache Junction, Tuesday evening, Dec. 7. Coach Pletnick was looking to his three captains (l-r) seniors Kelsey Easterbrook and Kara Curley and junior Nguon as they jump-started the LadyBirds to their first regular season win, 37-31 over A.J.

In their Dec. 3 home opener against Shadow Mountain, the Hoop Gals, after leading 20-11 early in the 2nd quarter, went stone cold and ended up on the wrong end of a 58-41 count. Rachel Manak (11) and Tri-Captain Ashley Nguon (10) led CSHS scorers.

Here's a "time capsule" for you: at center for the Lady Matadors (and netting 13 points) was Sydnee Ceballos, daughter of former Phoenix Sun Cedric Ceballos.

The Ladies return home, Friday evening, Dec. 10, to host J.L. Combs, 7 p.m. tip-off.