BY PETE MOHR | DECEMBER 8, 2010
Hoops win big at Shadow; 'Mine' Apache Junction!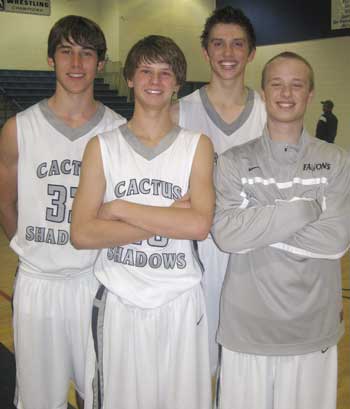 The Basketball 'Birds hosted Region foe Apache Junction, Tuesday evening, Dec. 7. (L-r) Trevor O'Hearn, C.J. Davis, Co-Capts. Nick Bennett and Casey Perrin celebrate 67-30 blow-out. Photo by Pete Mohr


CSHS – Rome wasn't built in a day; and first-year Head Basketball Coach Tyler Dummett can't be expected to have rebuilt CSHS Basketball in only two weeks. But his Falcons took another important step in an encouraging direction, going on the road, Friday, Dec. 3, to defeat Shadow Mountain, 76-67. The win avenged a 50-56 loss to the Matadors in the Paradise Valley Thanksgiving Tournament.

The Falcs led wire-to-wire, with sophomore C.J. Davis (24), Co-Captain senior Casey Perrin (18) and junior Trevor O'Hearn (10) in double figures. Hoop Guys play at J.L. Combs, Saturday, Dec. 11.

Falcons will celebrate the start of Christmas Break when they host Poston Butte, Friday, Dec. 17, tip-off at 7 p.m. Keep on truckin, Guys!