BY LINDA BENTLEY | DECEMBER 1, 2010
Larry Naman's now a free man, Wilcox is still a county supervisor
'I will say I'm sorry I shot you the day you stand before the court and admit what you did was an act of violence'
PHOENIX – With Maricopa County Supervisor Mary Rose Wilcox under scrutiny again, readers have been asking what happened to the man who shot Maricopa County Supervisor Mary Rose Wilcox in the butt in August 1997 just outside the auditorium where the five-member board of supervisors were leaving a meeting.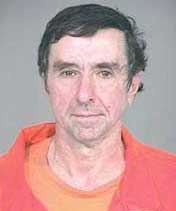 Larry Naman, 57, was released from the Arizona Department of Corrections in May 2010 after spending nearly 12 years of a 15-year sentence after being found guilty of attempted first degree murder for the incident. Naman was also ordered to pay Wilcox $27,000 in restitution.

Homeless at the time and without as much as a parking ticket, let alone any sort of criminal record, Naman said he shot Wilcox because she voted in favor of the sales tax to pay for the construction of Bank One Ballpark, or BOB, which is now Chase Field.

According to Naman, the tax should have been put to a public vote.

He was right.

In 1989, Phoenix voters passed a referendum, by a 2-1 majority, requiring public approval to build any sports facility costing more than $3 million.

However, to circumvent the will of the voters, the Arizona State Legislature passed a bill transferring stadium development authority from the city of Phoenix to Maricopa County.

In February 1994, by a vote of 3-2, the Maricopa County Board of Supervisors voted in favor of the one-quarter cent sales tax to raise the $238 million to build the baseball stadium.

Wilcox, as the tie-breaking vote, is the only one of the three supervisors voting in favor of the tax who was reelected.

Although he was facing a sentence of up to 21 years in prison after he was convicted, Naman told Wilcox, "I will say I'm sorry I shot you the day you stand before the court and admit what you did was an act of violence."

Of course the one-quarter cent sales tax wasn't even close to covering the $238 million ballpark and the Arizona Diamondbacks ended up having to pay for cost overruns of $127 million.

Meanwhile, Naman spent his 12 years as a model prisoner, working, performing details ranging from general labor to kitchen help to landscaper to groundskeeper, without a single disciplinary action.

As our readers may know, there are people who can prove Wilcox has committed numerous criminal acts while in office.

Failure to prosecute Wilcox, who was indicted on numerous felony counts by two grand juries, was a political decision by acting Maricopa County Attorney Rick Romley, a long-time political ally of Wilcox, not lack of evidence.

Time will tell if the recently sworn in County Attorney Bill Montgomery will see those charges through.