BY LINDA BENTLEY | DECEMBER 1, 2010
MCSO detention officer resorts to theft to retrieve repossessed vehicle
'It is a very sad situation to have to arrest one of my own officers but this is a clear act of a crime and he must be held accountable.'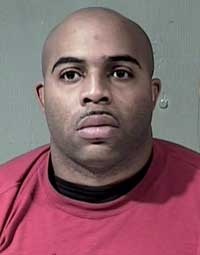 PHOENIX – On Nov. 24, Maricopa County Detention Sgt. Jason Keith Vance, 31, found out firsthand what life is like on the other side of the bars after being arrested on one count of felony theft.

Jail supervisors discovered a large amount of cash missing from the safe while conducting a routine end-of-shift cash count.

Surveillance video led investigators to Vance, who, once confronted, confessed to stealing $7,000 from a safe inside the Lower Buckeye Jail, which he said he needed to get back his repossessed vehicle.

Vance attempted to hide what he was doing and told detectives he was aware he was in view of the video cameras.

According to court documents, Vance got a ride to the finance company when he got off shift on Monday to retrieve his vehicle with the still-bundled cash.

Placed on paid leave pending an internal investigation, Vance was being held at the Fourth Avenue Jail in lieu of $10,000 bond.

Sheriff Joe Arpaio issued a statement after Vance's arrest saying, "It is a very sad situation to have to arrest one of my own officers but this is a clear act of a crime and he must be held accountable."

The money Vance took is cash deposited to accounts by inmates and/or their family members for purchasing commissary items and other needs while incarcerated.

Vance apparently doesn't take the law too seriously in other situations as he failed to appear in Yuma Justice Court after being cited in July 1999 for an expired registration.

By March 2000, his citation resulted in a default civil traffic judgment and fine. Vance was supposed to be making time payments but after being referred to collections, records indicate it remained unpaid in May 2010.

In June 2010, Vance received another civil traffic citation in Verde Valley. Again, Vance failed to appear and failed to pay the associated fine, which resulted in it being forwarded to collections in November 2010.

The Maricopa County Sheriff's Office is currently looking into technology that will eliminate the need for jail personnel to handle cash deposited to inmate accounts while they are in custody.