BY PETE MOHR | DECEMBER 1, 2010
John Leonard, Matt Michalizysen receive 2010 top football honors
15 Falcons make Desert Sky All-Region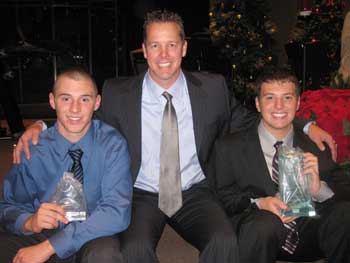 Head Coach Chad DeGrenier shows obvious admiration and affection for his two top awards recipients: "Most Valuable Player" John Leonard (l) and "Triple Crown" winner (leadership, scholarship, athleticism) Matt Michalizysen. Congratulations, "Big John" and "Meesch"!
Courtesy photo

PHOENIX – One Falcon senior, wide receiver John Leonard, quad-captained the 2010 Falcons while setting records for most receptions and total yards in a single season. Another senior, reserve defensive lineman Matt Michalizysen, spent most of his CSHS football career "ridin" the pines. In this writer's long-ago days as a 150-lb. long snapper, "Been there, done that!" But definitely not with young Matt's spirit and loyalty.

On Monday, Nov. 29 each received a standing ovation from the Football Banquet audience as Head Football Coach Chad DeGrenier bestowed upon Leonard the "Most Valuable Player" award, then capped the evening's honor roll by naming "Meesch" (as he's affectionately known to his teammates) the third winner of Falcon Football's "Triple Crown," which rewards outstanding leadership, scholarship and athletic ability. Bo Campbell was the first Triple Crown recipient in 2008, followed last season by Paul Walsh.

Before the Falcons were soundly ousted from the State Tournament, 52-21, at Apollo, Nov. 12, many of the HomeBirds, including Defensive Coordinator Matt Bradshaw, shaved their heads in a show of team unity. Their temporary baldness should be all-but-gone by Christmas; and there's nothing like the camaraderie – and pride – of an upbeat awards banquet to ease the disappointment of a season-ending loss. "Apollo, who?"

Mike Cimino's Event Central coordinated the event, after (Mr.) Demi-Jon Merlina's Scottsdale/101 Outback Steak House had catered great eats for the Falcon football community and guests present.

For Head Coach DeGrenier, the evening was all about his 21 seniors, who led the Falcons to a 7-3 regular season that was, quite possibly, only a tantalizing two plays away from being 9-1. But the Falcs caught their share of breaks; and "Coach D." appropriately praised their 7-3 mark as representing the first time in over 16 years that Cactus Shadows football had posted back-to-back winning seasons. Coupled with 2009's 10-1 record, the seniors led the Falcons to 18 wins, 5 losses. The seniors, too, got a well-deserved standing ovation from the audience.

Coach DeGrenier extended his coaching staff's appreciation to all football parents for their support. He also recognized the tireless efforts of Assistant Coach & Equipment Manager Kevin Sterner and Assistant Coach & Statistician Jake Van Der Stad – and also Mike and Cassie Noel for their management of game concessions. Mike and his Falcon Men's Club volunteers grilled up the most tasty footlong 'dogs in this Valley!

There were special presentations by Coach D. to the Falcon water crew: senior Jeffrey Lovell ("an inspiration to me") and junior Jordan Harter ("our favorite water girl"). Lovell received a team-autographed game jersey, Miss Harter a blue "CS" helmet suitable for display.

DeGrenier gifted a handsome Pat Tillman framed photo collage to his longtime friend Derek Wahlstrom, who joined the coaching staff this season, taking on primary responsibility for the critical tasks of scouting and game-film analysis.

Freshman Head Coach Jerry Cumberland, assisted by staff members James Carrick, Paul Walsh and Alex Boat, awarded recognition certificates to his 4-4 freshman squad. Head JV Coach Spencer Grace, joined by his assistant coaches Andy Gladstone and Kyle Ledesma, did the honors for the 6-2 JVs.

Freshman and JV award winners appear in the right-hand column, along with listings of Desert Sky All-Region honorees (15 Falcons tabbed for 18 slots!) and Team Awards individual winners. For each recipient, recognition was well deserved. Sonoran News congratulates all award winners. "Well done," guys!

Weight training ("lifting") started up again on Tuesday. Bring on the 2011 season!


"Hail and farewell" to the 21 Falcon Seniors
(in order introduced by Coach DeGrenier)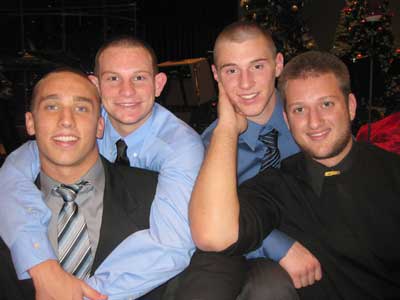 Nick Miller
Matt Michalyzsen
Cody Wendel
Tyler Coiro
Eric Mattson
Tony Matus
Ashton Keown
Will Bowers
Connor Henry
Gunnar Black
Victor Gutierrez
Andrew Miller
Parker LaRue
Chris Noel
Nic Erickson
Austin Stephens
Joree Schneider
Joey Hughes (Quad-Capt.)
John Leonard (Quad-Capt.)
Alex Yazdi (Quad-Capt.)
Max Gersh (Quad-Capt.)

Photo above: Post-banquet, the four quad-captains, all seniors, still smilin' – and enjoying each other! (L-r) Joey Hughes, Max Gersh, John Leonard, Alex Yazdi. The Falcons (and this writer) will miss you guys. Courtesy photo