BY MARIELLE D. MARNE | NOVEMBER 24, 2010
Witness pounds melt away with the help of
Z-Weight Loss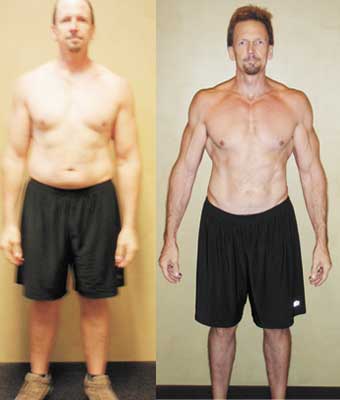 Before and after of Chris Christenson
CAVE CREEK – As the epidemic of obesity grows in America, those in the Desert Foothills area are fortunate to have Z-Weight Loss in their neighborhood. For almost three years, countless men and women (over 500!) have shed a multitude of pounds. The program, coupled with Z-Gym, uses medically-supervised, pharmaceutical-grade hCG for effective and safe weight loss.

Internet users may have seen the hCG hormone touted in banner ads, but don't be fooled! There is a considerable difference between what consumers buy online or in stores versus what they will find at Z-Weight Loss.

Unlike over the counter hCG, Z-Weight Loss' hCG is a controlled substance and must be administered by a physician. An initial consultation is required; blood work is done to assure a client is the right candidate. This is not a diet but a whole lifestyle change. And it works!
It can be quite risky being on a 500 calorie diet without the pharmaceutical hCG. It is likely your body will go into ketosis, you will lose lean muscle and bone, your metabolism will become sluggish and you will gain weight a lot easier as soon as the dieting is terminated.

With so many weight loss programs making enticing claims, it's challenging to choose which one is best. The number of referrals are proof of the success of Z-Weight Loss clients.
Personal trainers at the Z-Gym are there to help; the whole Z-Weight Loss staff offers ongoing support, even after the pounds have melted away.

Find out for yourself. Call Z-Weight Loss at 480-570-9200, see z-weightloss.com or visit 5533 E. Bell Rd., Suite 116 in Scottsdale.